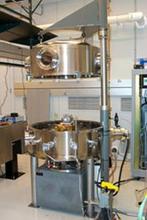 A NIST Standard Reference Material (SRM 3461) will be produced that will enable accurate calibration of the flexural stiffness of AFM test cantilevers. An array of extremely precise rectangular cantilevers will be microfabricated from silicon-on-insulator wafers. The uniformity of the cantilever population on each wafer will be verified with resonance frequency measurements using Laser Doppler Velocimetry and Euler-Bernoulli modeling. Calibrations traceable to the International System of Units (SI) will be performed on a statistical subset of the population using the electrostatic force balance developed by the Manufacturing Engineering Laboratory at NIST.
Further, AFM methods will be developed to enable mechanical property measurements at the nanoscale. Contact resonance methods will be used to determine elastic properties. AFM experiments using conducting probes have demonstrated the ability to measure thin interfacial oxide and organic films.
Impact and Customers:
A broad spectrum of industries, government agencies, and academic institutions use scanning probe instruments to develop, characterize, and manufacture products from ceramics, metals, polymers, and semiconductors.
Atomic Force Microscopes (AFMs) are the most common scanning probe instrument, with an estimated 10,000 AFMs in use in virtually every materials research and development laboratory worldwide.
Calibrating delicate measurement tools such as AFMs is difficult: at small length scales, the forces that affect probe-material interactions, and their relative magnitudes, are often unknown, but are certainly dominated by surface effects.
Currently, the lack of SI-traceable stiffness calibration standards hampers progress towards making AFM force measurements quantitative; such measurements can be precise, but there is an incomplete understanding of accuracy.