A series of extremely uniform prototype reference cantilever arrays were created that can be used to calibrate the spring constants of atomic force microscopy cantilevers and other micromechanical structures. Nominal spring constants were estimated to be in the range of 0.02 Nm-1 to 0.2 Nm-1. Resonance frequency measurements were used to assess the uniformity of devices from different portions of a silicon-on-insulator wafer, and from different processing batches. Variations of less than 1% (relative standard deviation) in resonance frequency attested to the high degree of uniformity achieved. Independent calibration of cantilevers in an array using an electrostatic force balance indicated that the actual spring constants ranged from 0.0260 ± 0.0005 Nm-1 (±1.9%) to 0.2099 ± 0.0009 Nm-1 (±0.43%). The results confirmed the feasibility of creating uniform reference cantilevers and calibrating them using an SI-traceable technique, making these devices excellent candidates for small force calibration standards for AFM. An SRM production batch is currently in process.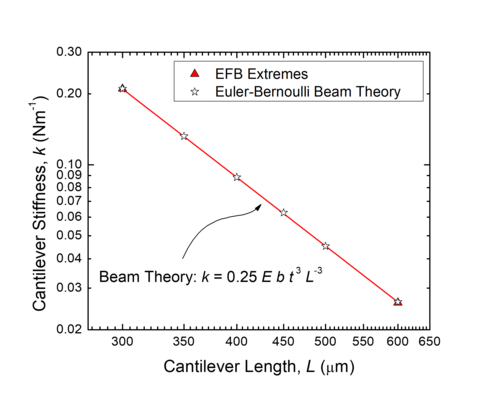 Agreement between stiffness measurements and models
A method for calibrating the stiffness of AFM cantilevers was developed using the prototype reference cantilever array. A series of force-displacement curves was obtained using a commercial AFM test cantilever on the reference cantilever array, and the data were analyzed using an Euler-Bernoulli model to extract the test cantilever spring constant from linear regression fitting. The method offers improvements in precision over the reference cantilever method (factor of five) and the added mass calibration method
(factor of three) that are currently used for AFM calibration.