Application: Photopolymer Additive Manufacturing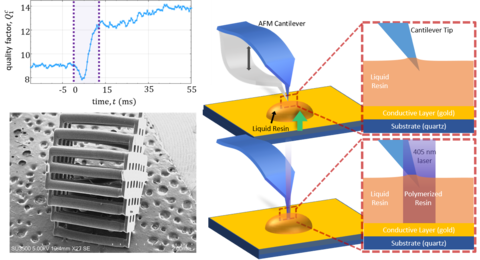 In photopolymer additive manufacturing (PAM), a liquid resin is selectively cured by a focused pattern of light, resulting in layer-by-layer formation of a solid 3D part. The method is attractive for commercial manufacturing because it affords a high degree of scalability towards higher-throughput and higher-spatial resolution; essential characteristics for critical applications such as biomaterials and metamaterials. During the voxel-scale liquid to solid reaction, the naive assumption is that only the area exposed to light experiences cure. In reality, a number of reactive and diffusive steps are competing at the length scale of the individual voxel, resulting in inaccurate representation of the input digital 3D model, and often widely varying mechanical properties that undermine reliability. By using the AFM probe as an in-situ photorheological sensor, we can map out the spatial variations in cure with time resolution much faster than the cure step, and spatial resolution much finer than the voxel itself. Rheological properties are recorded by monitoring the resonance frequency and quality factor of the cantilever during cure reaction, for different locations relative to the light source.
Callie I Fiedler‐Higgins et al Monitoring Fast, Voxel‐Scale Cure Kinetics via Sample‐Coupled‐Resonance Photorheology 2019 Small Methods 3 1800275
Application: Bias Induced Strain (Piezoresponse and related phenomena)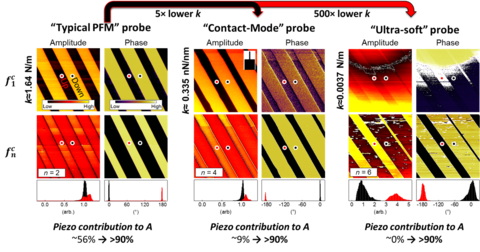 For a number of technologically important materials such as antennae, actuators, energy harversters, molecular machines and batteries, performance can be directly or indirectly tied to the relationship between applied bias voltage and material strain. With the AFM serving as an electrode to apply the bias, this strain can be measured directly from the deflection of the AFM cantilever, with nanometer spatial resolution. CRFM can be used to amplify the surface motion by a factor roughly equal to the quality factor. Typically, the use of CRFM in bias induced strain measurements has been met with many tradeoffs in inability to quantify and susceptibility to cross-talk and artifacts. We have been using our experience in CRFM viscoelastic measurements to systematically improve these short comings of CRFM bias induced strain measurements. In particular, we have worked on application of higher cantilever eigenmodes to enhance sensitivity and suppress ubiquitous electrostatic artifacts, application of cantilever vibrational shape characterization to quantify the true surface displacements, and application of a new method called isomorphic-CRFM that seeks to eliminate many forms of cross-talk.
Lawrence H Robins et al Isomorphic contact resonance force microscopy and piezoresponse force microscopy of an AlN thin film: demonstration of a new contact resonance technique 2020 Nano Futures 4 025003
Jason P Killgore et al Experimental reconstruction of the contact resonance shape factor for quantification and amplification of bias-induced strain in atomic force microscopy 2019 Appl. Phys. Lett. 114, 133108
Gordon A MacDonald et al Higher-eigenmode piezoresponse force microscopy: a path towards increased sensitivity and the elimination of electrostatic artifacts 2018 Nano Futures 2 015005