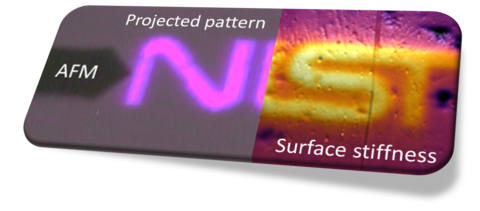 Impact
Nanocomposites are poised for explosive growth, particularly in the packaging, building and automotive industries. Enhanced composite performance requires optimal interfaces between the polymer matrix and the nanofiller. Nanomechanical mapping enables unprecedented levels of interface characterization and, ultimately, control.
Development of new polymer products ranging from consumer goods to bioreplacement materials continues to accelerate. Many involve strongly viscoelastic, compliant materials with nano- and microscale heterogeneities. Evaluating the mechanical robustness of these materials is critical for qualifying future product reliability and performance.
New contact-based processes could revolutionize nanomanufacturing, but they cannot yet be sufficiently controlled to produce high-volume, low-cost products. Sensitive, real-time measurements of nanoscale contact interactions lead to enhanced nanofabrication process control and, hence, dramatic improvements in repeatability, yield and speed.
Approach
Originally developed for topography information, the AFM offers many advantages for materials characterization. Most notably, the small radius of the AFM tip (~5 nm to 50 nm) provides true nanoscale spatial resolution. Several AFM methods have been developed to assess mechanical properties, but typically only qualitative images of relative contrast can be obtained. In comparison, contact resonance force microscopy (CR-FM) enables quantitative mapping of mechanical properties. CR-FM involves measuring the frequency of the vibrating AFM cantilever while its tip is in contact with a sample. From these "contact resonance" frequencies, information is obtained about the interaction forces between the tip and the sample (e.g., contact stiffness). Models for the tip-sample contact mechanics are used to relate the contact stiffness to mechanical properties such as elastic modulus. Additional measurements of the contact resonance peak width (quality factor) allows the tip-sample damping interaction, and ultimately the sample's viscoelastic properties, to be determined. In systems with known mechanical properties, contact resonance signals are a rapid, sensitive probe of sub-nanometer changes in the tip-sample contact.