Bulk Cryogenic Production
Large-batch cryogenic reference materials are produced using a Palla VM-KT Vibrating Cryomill. The mill is pre-cooled to cryogenic temperatures using liquid nitrogen. Frozen material is fed through the inlet funnel to a vibrating chamber containing 26 titanium rods. The rods pulverize the material into a fine powder. The fresh-frozen product is then extruded from the chamber through the outlet below.
Particle Size Analysis
The particle size distribution of the resultant material is evaluated using laser-diffraction.  These data help assess homogeneity based on size and are used as a process control indicator to determine if additional milling is required.  Laser diffraction particle size analysis (PSA) is also used to assign informational values to existing RMs that require particle size data.

Small-Batch Production
Smaller batches of RM can be homogenized either cryogenically or at room temperature using polytetrafluoroethylene (PTFE) disk mills. Material is added to the disk mill in small pieces and loaded into a shaker. High force oscillations pulverize the material into a fine powder.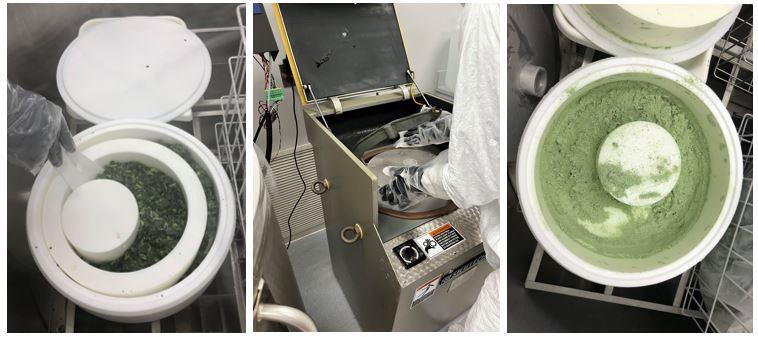 Custom and Rapid-Response Materials
Staff are also developing and implementing protocols for generating custom RMs. Using techniques such as blending of multiple materials or amending matrices with endogenous analytes, in-house RMs can be generated when natural sources of material cannot be procured. These techniques can also be used to develop 'rapid-response' RMs to aid the measurement community in the event standardization of a specific measurement is immediately required and there is no time to collect and process large amounts of naturally- sourced material.
Production Contributions
SRM 2974a: Organics in Freeze-Dried Mussel Tissue (Mytilus edulis)
SRM 1974c/d: Organics in Mussel Tissue (Mytilus edulis)
SRM 3279: Chromium Dietary Supplement
SRM 2790: Inorganic Constituents in Hardwood Biomass Material
SRM 2791: Inorganic Constituents in Softwood Biomass Material
SRM 3233: Fortified Breakfast Cereal
SRM 1936: Great Lakes Sediment Organics and Trace Elements
SRM 1548b: Typical Diet
RM 8301: Boron Isotopes in Marine Carbonate
RM 1565: Mycotoxins in Corn
RM 8256: Wild-caught Coho Salmon
RM 8257: Aquacultured Coho Salmon
RM 8258: Wild-caught Shrimp
RM 8259: Aquacultured Shrimp

SRM 2983: Inorganics in Geoduck Clam tissue*

SRM 2783a: Air Particulate on Filter Media*

RM 8694: Per- and Polyfluoroalkyl Substances in Bovine Tissue (Dairy Cow)*
RM 8695: Per- and Polyfluoroalkyl Substances in Bovine Tissue (Beef Bull)*
RM 8696: Per- and Polyfluoroalkyl Substances in Porcine Tissue*
SRM 3223: Inorganic Constituents in Cigarette Tobacco Filler*
SRM 1947a: Great Lakes Fish Tissue*
RM 8462: Liver Suite (Omics Measurements Suitability)*
RM 8048: Human Fecal Material*
PSA Contributions
SRM 2684c: Bituminous Coal (Nominal Mass Fraction 3 % Sulfur)
SRM 2448: Mercury in Brominated Activated Carbon
SRM 2682c: Subbituminous Coal (Nominal Mass Fraction 0.5 % Sulfur)
SRM 1635a: Trace Elements in Coal (Subbitumimous)
SRM 1632e: Trace Elements in Coal (Bituminous)
SRM 2683c: Bituminous Coal (Nominal Mass Fraction 2 % Sulfur)
SRM 2445: Mercury in Iodized Activated Carbon
SRM 2710a: Montana I Soil Highly Elevated Trace Element Concentrations
SRM 1649b: Urban Dust
SRM 2706: New Jersey Soil, Organics and Trace Elements
SRM 2709a: San Joaquin Soil Baseline Trace Element Concentrations
SRM 2711a: Montana II Soil Moderately Elevated Trace Element Concentrations
SRM 2718a: Green Petroleum Coke

SRM 2963a: Bituminous Coal (Nominal Mass Fraction 0.5 % Sulfur)*
*Candidate materials in progress