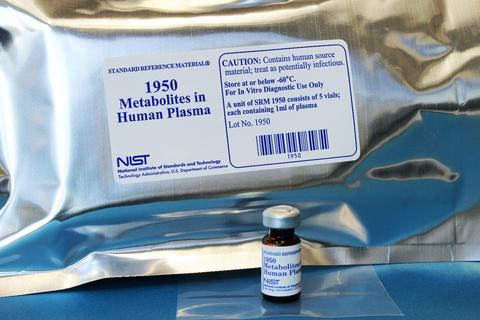 There is a significant need for tools to increase harmonization, comparability, and reproducibility between laboratories and/or studies, and to provide quality control of sample preparation and data analysis protocols utilized in non-targeted analysis. The development of reference materials will serve as normalization and harmonization tools for quality assurance/quality control (QA/QC), materials for methods development or new technology characterization. In addition, these reference materials will generate publicly available reference datasets, which can be used to evaluate data processing and analysis.
Current Activity
There are currently no RM-based series available for use as study harmonization materials for workflow and data validation in these fields.  We are generating both bio-fluid and tissue based materials to develop workflow best practices and serve as harmonization QA/QC checks for NMR- and MS-based metabolomic, lipidomic and proteomic measurements. Reference datasets including highly confident identifications of chemical compounds, peptides and protein groups are being generated in order to validate analytical data processing and results for non-targeted studies.
Associated Publications
1. Lippa, K. A., Aristizabal-Henao, J. J., Beger, R. D., Bowden, J. A., Broeckling, C., Beecher, C., Davis, W. C., Dunn, W. B., Flores, R., Goodacre, R., Gouveia, G. J., Harms, A. C., Hartung, T., Jones, C. M., Lewis, M. R., Ntai, I., Percy, A. J., Raftery, D., Schock, T. B., Sun, J. C., Theodoridis, G., Tayyari, F., Torta, F., Ulmer, C. Z., Wilson, I., and Ubhi, B. K., "Reference materials for MS-based untargeted metabolomics and lipidomics: a review by the metabolomics quality assurance and quality control consortium (mQACC)," Metabolomics, 18, (2022). 
2. Bearden, D. W., Sheen, D. A., Simon-Manso, Y., Benner, B. A., Rocha, W. F. C., Blonder, N., Lippa, K. A., Beger, R. D., Schnackenberg, L. K., Sun, J. C., Mehta, K. Y., Cheema, A. K., Gu, H. W., Marupaka, R., Gowda, G. A. N., and Raftery, D., "Metabolomics Test Materials for Quality Control: A Study of a Urine Materials Suite," Metabolites, 9, (2019).