The OIML D1 "National metrology systems - Developing the institutional and legislative framework" is just that legislative framework designed to promote sound legal metrology infrastructure and build a modern (and thriving) economy. OWM's Ralph Richter played a key role in developing the current edition (2020) of D1 OIML, together with other colleagues from the International Organization of Legal Metrology (OIML) and International Bureau of Weights and Measures (BIPM). The OIML D1 document provides advice to national authorities (directed toward developing economies) on issues to consider while developing policies for national metrology systems, establishing national laws related to metrology, and creating the institutions necessary to implement the system.
Recently, the BIPM and OIML jointly produced an accessible National Metrology Systems Brochure that describes the various aspects of formalized National Metrology Systems. NIST's Doug Olson (retired from OWM) was involved in the preparation of the Brochure, and attests:
"A formalized national system for metrology benefits a country in many ways. It helps businesses compete globally, provides fairness and equity for consumers in the marketplace, and establishes a sound basis for scientific research and addressing the challenges of a society for the future. In my career I have participated in both its scientific and legal aspects, and have observed how it helps its citizens, industry and government."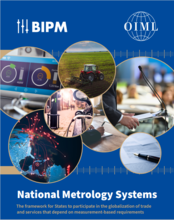 The Brochure contains a series of easy to read, high-level overviews on the role of government and policy implementation options, and how best to assess metrology needs and a develop a robust metrology system that support national priorities.
Learn more here about OWM's continued activities in International Legal Metrology, including the International Organization of Legal Metrology (OIML).