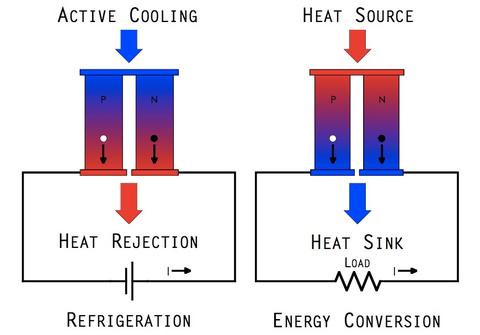 Current economic and environmental issues demand improvements in energy conversion technologies for efficient utilization of energy resources. The United States industrial sector consumes approximately one third of all energy used in the United States, roughly 32 quadrillion Btu (1015 Btu) of energy annually. Between 5-­13 quadrillion Btu/yr of this energy is ultimately lost as waste heat via streams of hot exhaust liquids and gases, as well as through heat conduction, convection, and radiation from manufacturing equipment and processes[1]. To put this in perspective, if 15% of this heat could be effectively captured and converted into electricity, it would be enough to power over 20 million homes per year. Applications using thermoelectric materials, for example, which can interconvert thermal and electrical energy, have demonstrated potential for meeting such needs as waste heat recovery in engines for automotive, aerospace, and military applications, and solid-state refrigeration for consumer products and microelectronics. The widespread use of thermoelectric converters for vehicular waste heat recovery could lead to a 10 % improvement in fuel efficiency, translating to a fuel savings of about $150 per year for every automobile, as well as decreased CO2 emissions. In addition, improved cooling of microelectronic devices would result in greater operational efficiency and reliability of integrated circuit chips, which are the major products of the $120B U.S. semiconductor industry. However, commercially available thermoelectric devices are only about 5% efficient. The Measurements, Standards, and Data for Energy Conversion Materials Project provides the underpinning measurement science needed to support the development, production and reliability of materials and devices related to advanced energy sources, renewable energy, energy storage and energy-harvesting. We develop Standard Reference Materials (SRMs), measurement methodologies, comprehensive data sets, and phase equilibrium data for bulk and thin film thermoelectric materials that enable the reliable inter-laboratory comparison of data and the confirmation of reported high efficiency thermoelectric materials.
Capabilities
Materials and device producers require accurate measurements of the electrical and thermal transport properties to optimize and commercialize materials in both bulk and thin film form for use in thermoelectric devices. Our testing capabilities include both commercial and custom developed tools, comprising 1) electrical resistivity, Seebeck coefficient, and thermal conductivity on bulk and thin film materials from 1.8 K to 390 K, 2) AC resistivity as a function of magnetic field angle, 3) temperature dependent Hall effect/carrier concentration/carrier mobility (superconducting magnet up to 9 T), 4) heat capacity under magnetic field, 5) high temperature (300 K and 1000 K) electrical properties, e.g., electrical resistivity and Seebeck coefficient, in 2- and 4-probe arrangement, and 6) composition-spread thin film synthesis via sputtering or pulsed-laser deposition. We have also developed tools for high-throughput measurements on composition spread library films, e.g., scanning probe electrical resistivity, Seebeck coefficient (300 K to 1000 K), and thermal effusivity. Thus, we can evaluate thousands of compositions within a relatively short measurement cycle. Recently, we have begun to develop reliable supplementary thermoelectric data in the form of phase diagrams for use by researchers to better understand structure-property relationships[2].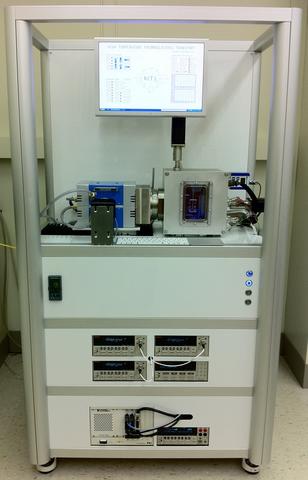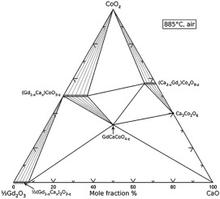 Related Publication
N. D. Lowhorn, W. Wong-Ng, Z.-Q. Lu, J. Martin, M. L. Green, J. E. Bonevich, E. L. Thomas, N. R. Dilley, and J. Sharp, "Development of a Seebeck Coefficient Standard Reference Material," J. Mater. Res. 26, 1983 (2011).
J. Martin, T. Tritt, C. Uher, "High Temperature Seebeck Coefficient Metrology," J. Appl. Phys.-Focused Review 108, 121101, (2010).
J. Martin, "Apparatus for the High Temperature Measurements of the Seebeck Coefficient in Thermoelectric Materials," Review of Scientific Instruments, 83, 065101 (2012).
J. Martin, Protocols for the High Temperature Measurement of the Seebeck Coefficient in Thermoelectric Materials, Meas. Sci. and Technol. 24, 085601 (2013).
J. Martin, Error Modeling of Seebeck Coefficient Measurements Using Finite-Element Analysis, J. Electr. Mater. 42, 1358-1364 (2013).
W. Wong-Ng, W. Laws, S.H. Lapidus, L. Ribaud, and J.A. Kaduk, "Phase Equilibria  and Crystal Chemistry of the CaO-½Gd2O3-CoOz System at 885 °C in Air," Solid State Sci. 72, 47-54 (2017).