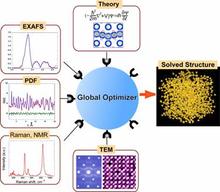 Functional materials enable applications in the computer, data storage, wireless communication, and energy sectors. The properties of many of these systems are critically dependent on deviations of local atomic arrangements from the global average of the crystal. No single measurement technique can provide an accurate description of the local structure. Therefore, our efforts focus on developing analytical tools (methods and software) that allow integration of measurements from multiple experimental methods, and theory to enable accurate and comprehensive determination and prediction of atomic configurations over length-scales from sub-nanometer to macroscopic. Specifically, we develop methods and software for structural refinements using simultaneous fitting of diffraction and x-ray absorption data, and modeling tools for ab initio simulations of diffuse scattering in systems with nanoscale order, Raman spectra in systems with local disorder, which is common for technological materials. All of this input is needed for the determination of atomic order over multiple length scales.
Impact and customers
The availability of methods and analytical tools for measuring local structure will accelerate the formulation of structure-property relations for advanced functional materials and allow their more rapid selection and optimization, thereby decreasing the development time for new devices.

Computer software for refinements of atomistic models using simultaneous fitting of X-ray and neutron total scattering data, extended X-ray absorption fine structure, and diffuse scattering in single-crystal X-ray and neutron diffraction is being developed in collaboration with our partners at Spallation Neutron Source (ORNL) and ISIS pulsed neutron and muon source in the United Kingdom.   This software package available at

https://rmcprofile.ornl.gov

 has become a   standard tool for atomistic structural refinements.
Recent Publications
Levin, I, Yang, F, Maier, R, Laws, WJ, Keeble, DS, Cibin, G, Sinclair, DC, "Displacive Order–Disorder Behavior and Intrinsic Clustering of Lattice Distortions in Bi‐Substituted NaNbO3," Advanced Functional Materials, 2001840 (2020) https://doi.org/10.1002/adfm.202001840
Krayzman, V, Cockayne, E, Johnston-Peck, AC, Vaughan, G, Zhang, F, Allen, AJ, Kunz, LY, Cargnello, M, Friedman, LH, Levin, I, "Local Structural Distortions and Failure of the Surface-Stress "Core-Shell" Model in Brookite Titania Nanorods," Chemistry of Materials (2019)  https://doi.org/10.1021/acs.chemmater.9b03762
Eremenko, M, Krayzman, V, Bosak, A, Playford, HY, Chapman, KW; Woicik, JC, Ravel, B; Levin, I; "Local atomic order and hierarchical polar nanoregions in a classical relaxor ferroelectric," Nature communications,10, 1, 1-9, (2019) https://doi.org/10.1038/s41467-019-10665-4
Levin, I, Keeble, DS, Cibin, G, Playford, HY, Eremenko, M, Krayzman, V, Laws, WJ, Reaney, IM, "Nanoscale polar heterogeneities and branching Bi-displacement directions in K0. 5Bi0. 5TiO3," Chemistry of Materials, 31, 7, 2450-2458 (2019) https://doi.org/10.1021/acs.chemmater.8b05187