Starting in June 2016, NIST is convening the Iris Experts Group as a series of colloquia addressing topics of interest to operational deployment of biometrics in the United States government and more broadly.
---

The Iris Exchange (IREX) was initiated at NIST in support of an expanded marketplace of iris recognition applications based on standardized interoperable iris imagery.  The work was initially conducted to support of the ISO/IEC 19794-6 standard and ISO/IEC 29794-6 standards (LINK2) and has subsequently been extended to assist implementers in large scale adoption of iris recognition. IREX currently consists of nine parts documented on the homepage.
---

The Iris Challenge Evaluation (ICE) project was conducted and managed by Dr. P. Jonathon Phillips at NIST. It was conducted simultaneously with the Face Recognition Vendor Test (FRVT) 2006 and results are reported in a combined, multi-biometric report.
---
MBE has three tracks: Portal, Video, and Still Face. 
---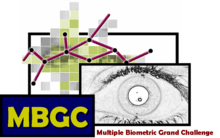 The primary goal of the Multiple Biometric Grand Challenge (MBGC) is to investigate, test and improve performance of face and iris recognition technology on both still and video imagery through a series of challenge problems and evaluation. The participation period has now ended, however, MBGC data is still available to researchers.