Infrared (IR) absorption spectroscopy has been used widely as a non-invasive, label-free characterization method for complex biomolecules' chemical identification and structure. Fourier-transform IR (FT-IR) technology is commonly used to characterize proteins and other biological molecules produced during biopharmaceutical processes. FT-IR is advantageous because it does not require additional sample preparation steps, such as buffer exchange and dilution. Extensive studies on FT-IR spectroscopy of proteins have shown that the amide bands can be used to semi-quantitatively characterize the secondary structure (e.g., a-helix and b-sheet) of the protein backbone conformation. However, the interference by strong water absorption keeps FT-IR from characterizing low concentration samples of <10 mg/mL and prevents the usage of a long-pathlength optical cell. Non-invasive optical characterization of low-concentration protein samples is critical for new types of drugs in their original formulation conditions.
Recently, we have developed a new optical technique for quantum cascade laser (QCL)-based mid-IR absorption spectroscopy [1]. By the patented solvent absorption compensation (SAC) technique [2], we can detect the amide I band of a protein solution with 100 times better sensitivity compared to conventional mid-IR spectroscopy. In addition to applying the SAC-IR spectroscopy to various applications, we are working to improve the sensitivity and expand the frequency range and increase the acquisition speed to meet the critical needs of protein characterization.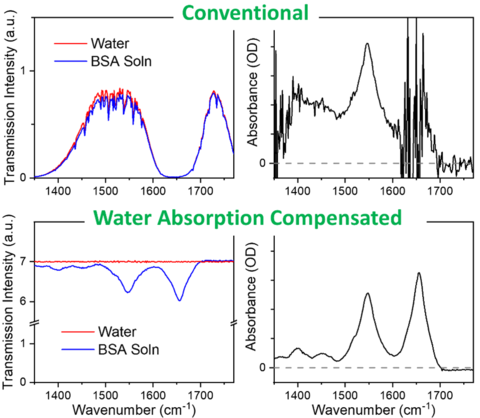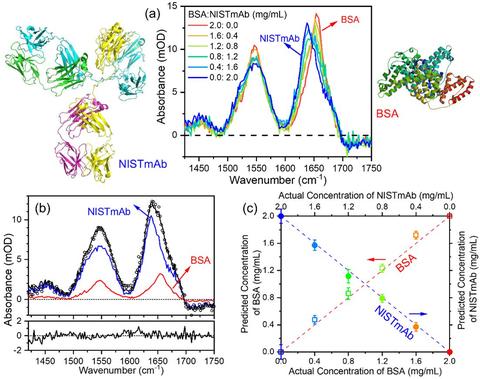 PUBLICATIONS
[1] B. Chon, S. Xu, Y. J. Lee, Compensation of Strong Water Absorption in Infrared Spectroscopy Reveals the Secondary Structure of Proteins in Dilute Solutions. Anal. Chem. 93, 2215 (2021).
[2] Y. J. Lee, Spectrum Adjuster and Producing a Pure Analyte Spectrum. US Patent Appl. No. 16,164,859. (2018).