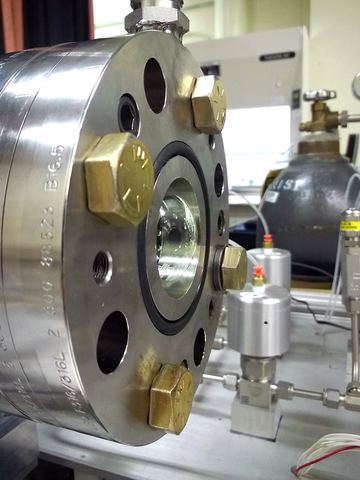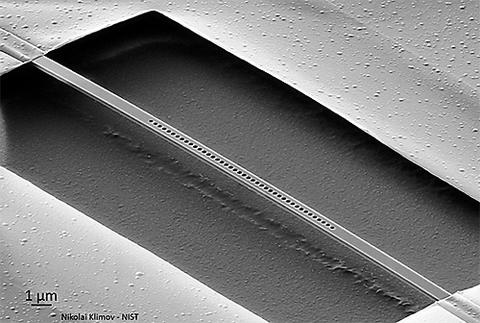 Measurement Platform: We are developing a photonics based dynamic pressure measurement platform that will enable traceable, accurate measurement of dynamic pressure. To this end we are developing fast scanning laser absorption spectroscopy techniques that enable rapid measurement of pressure-broadening of a molecular ro-vibrational transition. This approach reduces pressure measurement to fundamental examination of the impact of molecular collisions on the resonant light-matter interaction, a quantum phenomenon, enabling a traceable measurement of pressure that is rooted in frequency measurement.
Dynamic Pressure Sources: We are investigating a range of dynamic pressure sources for creating reproducible dynamic pressure events at repetition rate that is economically feasible for deployment in the market place. Currently we are investigating the use of low Mach number shock tubes and fast opening valves for creating reproducible dynamic pressure fronts.
Sensors: As part of our effort in building up the measurement infrastructure we have taken a two-pronged approach to sensor development. Utilizing our repeatable dynamic pressure sources we are characterizing the response of traditional piezoelectric transducers and photonic Fiber Bragg grating sensors in dynamic pressure conditions. Our goal is to bring forth a richer understanding of the utility and limitations of these commercially available sensor technologies. In parallel, leveraging our expertise in silicon photonics, we are developing novel in-fiber and silicon on insulator (SOI) type photonic pressure sensors.
Goal
Our goal is to leverage our world-leading expertise in spectroscopy, engineering, pressure metrology, computational dynamics and sensor fabrication to develop a comprehensive, field deployable, cost-effective solution for dynamic pressure measurements.