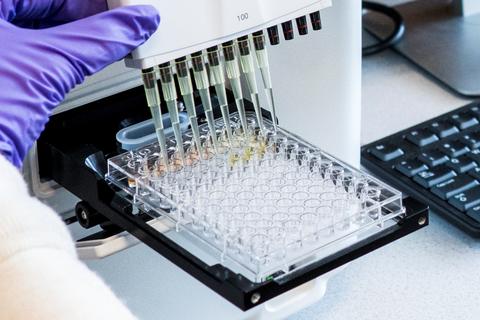 Accuracy and reliability of clinical assays is essential for timely and accurate medical interventions. However, studies have shown that large variations in results can occur among routine clinical assays. In one example, a clinical comparison among 13 commercial cardiac troponin I assay platforms revealed differences in the cutoff values used to classify results as positive or negative. A comparison of routine testing procedures for urine albumin noted significant differences in method bias across the range of concentrations studied. These observations highlight the difficulties that physicians may encounter when attempting to classify patients and select appropriate treatments. While there are many reference measurement procedures that serve as a foundation for measurement accuracy of small-molecule organic and inorganic species, few exist for clinically relevant proteins. NIST is developing higher-order mass spectrometry-based methodology capable of quantifying proteins present at low concentrations in complex biological matrices such as plasma, serum, and urine. These methods can then be used to provide a metrologically sound basis for routine clinical assays for these proteins. NIST works closely with the clinical chemistry community and with other government agencies to identify the highest priorities for reference method and reference material development.
Development of reference measurement procedures for clinically relevant proteins typically employs a "bottom-up" proteomics approach where peptides are generated through the enzymatic digestion of the target protein in the sample. Quantitation can then be performed by adding known amounts of isotopically labeled peptides as internal standards. This technique has been utilized to quantify vitamin D binding protein in serum and plasma.  However, this approach is not ideal because it may fail to compensate for incomplete digestion of the proteins or other variables in sample processing. Therefore, we have also investigated the use of full-length stable isotope-labeled proteins as internal standards. SRM 2927 ("15N-Labeled Recombinant Human Insulin-like Growth Factor 1"), is the first NIST certified reference material for an isotopically labeled protein.  A 15N-labeled form of C-reactive protein (CRP) has been evaluated for measurement of CRP in serum, and 15N-labeled albumin is being used in a candidate reference measurement procedure for urine albumin. NIST has also developed several recombinant protein reference materials that can serve as calibrators for mass spectrometry-based reference measurement procedures.
One of the main drivers for developing reference measurement procedures is value assignment of natural matrix-based reference materials that can be used by clinical assay manufacturers to verify the accuracy of their products. Matrix-based materials are preferred because they more closely resemble the patient samples typically analyzed in these assays. NIST is currently developing a urine matrix reference material to support standardization of urine albumin measurements. When no reference measurement procedure is available, matrix-based materials may still be useful in improving the agreement among different assays, and NIST is currently developing a reference material for cardiac troponin I in human plasma.
Many proteins of clinical interest are present in low abundance relative to other serum proteins. NIST continues to explore affinity purification and other techniques to isolate these proteins from clinical matrices. Recent work demonstrated the immunoaffinity enrichment of cardiac troponin I from human plasma and its quantification by liquid chromatography-tandem mass spectrometry.  Continued research will further the development of reference methods and materials for this, and other challenging protein biomarkers.