Chip-scale laser cooling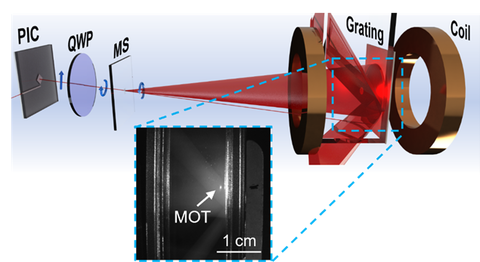 This project develops technologies to achieve chip-scale laser cooling, beyond direct miniaturization of existing laboratory techniques. This includes development of the vacuum technology for realizing low power, passively pumped ultra-high vacuum chambers [1,2] and novel methods to produce atomic vapors [3]. Optical integration of laser cooling is explored using photonic integrated circuits, optical metasurface, and grating-type magneto-optical traps [2,4].
Publications
[1] A. T. Dellis, V. Shah, E. A. Donley, S. Knappe, and J. Kitching, Low Helium Permeation Cells for Atomic Microsystems Technology, Opt. Lett., OL 41, 2775 (2016).
[2] J. P. McGilligan, K. R. Moore, A. Dellis, G. D. Martinez, E. de Clercq, P. F. Griffin, A. S. Arnold, E. Riis, R. Boudot, and J. Kitching, Laser Cooling in a Chip-Scale Platform, Appl. Phys. Lett. 117, 054001 (2020).
[3] J. P. McGilligan, K. R. Moore, S. Kang, R. Mott, A. Mis, C. Roper, E. A. Donley, and J. Kitching, Dynamic Characterization of an Alkali-Ion Battery as a Source for Laser-Cooled Atoms, Phys. Rev. Applied 13, 044038 (2020).
[4] W. R. McGehee, W. Zhu, D. S. Barker, D. Westly, A. Yulaev, N. Klimov, A. Agrawal, S. Eckel, V. Aksyuk, and J. J. McClelland, Magneto-Optical Trapping Using Planar Optics, New J. Phys. 23, 013021 (2021).
Chip-scale atomic beam clocks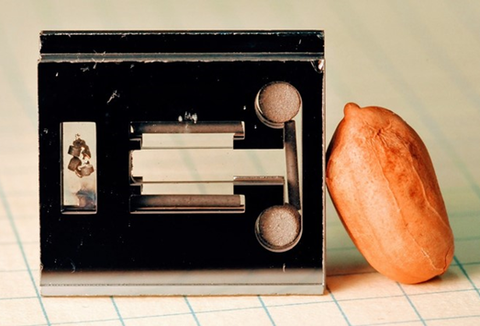 Chip-scale atomic beams are a novel platform for quantum sensing. This project developed the first chip-scale atomic beam devices [1] and is currently exploring miniaturized microwave frequency standards based on optical coherent population trapping interrogation of atomic beams. This effort works to combine the miniaturization technology developed for chip-scale atomic clocks with the long-term stability typically afforded in atomic beam platforms.
Publication
[1] G. D. Martinez, C. Li, A. Staron, J. Kitching, C. Raman, and W. R. McGehee, A Chip-Scale Atomic Beam Clock, arXiv:2303.11458.
Compact atom interferometry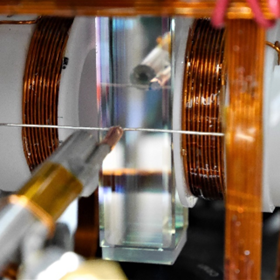 Atom interferometry offers a high-stability pathway for inertial sensing. This project develops miniaturized gyroscopes using light-pulse atom interferometry of an expanding gas of laser-cooled atoms [1,2]. We probe the balance of miniaturization and performance achievable using cm-scale volumes.
Publications
[1] Y.-J. Chen, A. Hansen, G. W. Hoth, E. Ivanov, B. Pelle, J. Kitching, and E. A. Donley, Single-Source Multiaxis Cold-Atom Interferometer in a Centimeter-Scale Cell, Phys. Rev. Applied 12, 014019 (2019).
[2] Y.-J. Chen, A. Hansen, M. Shuker, R. Boudot, J. Kitching, and E. A. Donley, Robust Inertial Sensing with Point-Source Atom Interferometry for Interferograms Spanning a Partial Period, Opt. Express 28, 34516 (2020).