Standardization of 209Po (SRM 4326a) and Evaluation of Half-life Descrepancy
A new primary standardization of 209Po is underway to support the production and dissemination of a new series of carrier-free solution standards (SRM 4326a), as well as to provide a linkage to the previous SRM 4326. The 209Po certified massic α-emission rate for SRM 4326a will be obtained with three commercial LS counters and with varying cocktail compositions. The new SRM, as the previous issue, will be prepared carrier-free in 2 mol/L HCl. Corrections for the electron capture branch to 209Bi and for the 2-keV delayed isomeric state in 205Pb will be made. Confirmatory measurements will be performed by α spectrometry with high resolution Si surface-barrier junction detectors. The linkage to the previous SRM 4326 standardization will obtain a third value for a 19-year decay curve, following those obtained from previous 209Po standardizations performed in March 1994 and November 2005. The measurement procedures and analyses for the three determinations will be as identical as possible. The new result may confirm or refute the serious 25 % half-life discrepancy that we identified in 2006. This work is a large and ambitious undertaking as reflected in the accompanying production and standardization schema.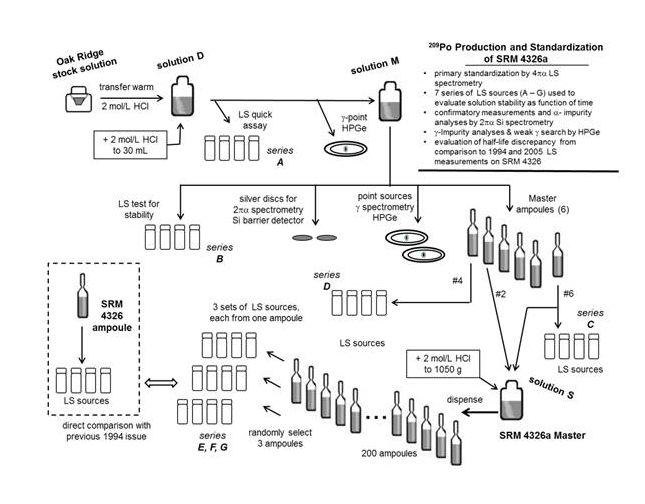 Schema for the Production and Standardization of 209Po (4326a)
Notice of Online Archive: This page is no longer being updated and remains online for informational and historical purposes only.