NEW ENABLING TECHNOLOGY
Superior modern temperature sensors rely on a resistance measurement of a loose, suspended bundle of platinum wires that is sensitive to humidity and vulnerable to strain induced by mechanical shock. That results in a drift in resistance that requires frequent, time-consuming and costly recalibration of the instrument to ensure peak performance. State-of-the-art standard platinum resistance thermometers (SPRTs) are also typically expensive and require extremely careful handling.
The photonic temperature sensor relies on ultra-sensitive, frequency-based measurements of the effect of heat on the dimensions and predominant thermo-optic properties of the photonic resonator. It is ultra-small, a few tens of micrometers in length and only a fraction of a micrometer in thickness, on-chip integrated and optical fiber-coupled. The new thermometer has the potential to deliver the precision of an SPRT  , but is potentially more robust with regards to mechanical shock and environmental variations. 
The packaging is dictated by applications. It can vary from a distributed sensor/chip network for environmental and/or building structure monitoring to an assembly comparable to the footprint of an SPRT for the dissemination of the International Temperature Scale of 1990. 
The optical resonator and waveguide can be made independently from the same or different material as the substrate. Possibilities include sapphire, silicon, silica, silicon nitride, aluminum nitride or a combination thereof. The material for forming the optical resonator can be selected based on a resonant wavelength for the optical resonator, e.g., silicon for devices with a resonant frequency in a near infrared region (i.e., up to 2 µm wavelength), silicon nitride or aluminum nitride for a visible wavelength, sapphire for a terahertz wavelength, and the like.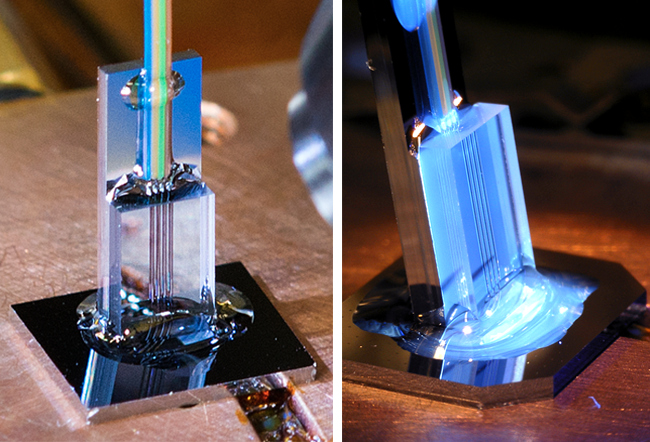 PRECISION MEASUREMENT AT LOW SIZE AND COST
Photonic sensor technology is an ultra-sensitive but low-cost, lightweight, portable and electromagnetic-interference-resistant solution that can be deployed in a wide variety of settings ranging from controlled laboratory conditions to variable environments.