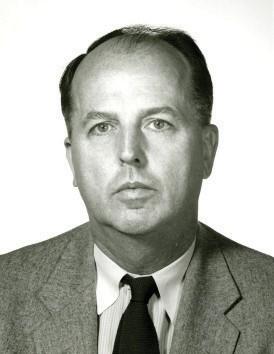 It is safe to say that on an otherwise uneventful Thursday evening in November 1979, National Bureau of Standards (NBS) scientist Wilfred Basil Mann was not expecting to be drawn into an espionage scandal.
That night, British Prime Minister Margaret Thatcher revealed Sir Anthony Blunt, knight and former adviser to Queen Elizabeth II, to be a Soviet spy. Blunt, a British Secret Intelligence Service agent during and after World War II, had funneled top-secret information to the Soviet Union as a double agent. As soon as the news was released, the queen stripped Blunt of his knighthood. The newspapers then portrayed him as the previously unknown "fourth man" of the notorious Guy Burgess-Donald Maclean- Kim Philby spy scandal of the 1950s, each member of this spy ring having initially met as Cambridge University undergraduates. Burgess, Maclean, Philby, and Blunt had obtained secret information from the British Embassy in Washington, D.C., about everything from nuclear weapons to NATO military strategy, and passed it on to the Soviets.
Blunt's public exposure resulted from the publication of The Climate of Treason just days earlier. The book, written by Andrew Boyle, detailed Blunt's treason, but also contained information that would have further implications: that there had been a fifth man in the spy ring, whom Boyle code-named "Basil." Boyle suggested that this fifth man might have been a nuclear scientist serving in the British Embassy in Washington with Donald Maclean.
And thus, in 1979, NBS' Wilfred Basil Mann entered onto the world stage. Mann, who had worked on the "Tube Alloys" project, the British nuclear-bomb research incorporated into the Manhattan Project during World War II, had been assigned to the scientific office in the British Embassy in D.C. after the war. In 1979, the press discovered his name and his prior work at the embassy, which had included interactions with co-workers Maclean, Philby, and Burgess.
Mann made a strong case that he had not been involved in any espionage activities. Despite the evidence he provided to the public in articles and interviews proving his innocence, and despite the fact that Boyle never interviewed Mann, the press continued to raise the rumor of his possible involvement in the spy ring until U.S. authorities publicly came to his rescue by announcing that he was not and had never been a Soviet agent.
Earlier inquiries into the possible existence of another member of the spy ring were published in 1975 by The Times and Penthouse, and the matter was investigated in 1975 and 1977. Among those postulated to have been the fifth man were former director of British military intelligence Sir Roger Hollis, British intelligence officer Guy Liddell, Welsh journalist Goronwy Rees, and Victor Rothschild, 3rd Baron Rothschild. In 1981, however, Margaret Thatcher revealed that another man, John Cairncross, had been the fifth member of the Cambridge spy ring, with the ring's actual number likely being much higher than five.
Mann was recruited in 1951 to head the NBS Radioactivity Section. He became a U.S. citizen in 1959, and his work at NBS included the development of a full suite of experimental techniques to be used in the standardization of the radioactivity of nuclides, including coincidence counting, internal gas counting, and microcalorimetry.  Mann also made early measurements of the half-lives of tritium and carbon-14, and built an isotope separator to prepare isotopically pure standards of krypton-85 and xenon-133.
In 1980, Mann retired from NBS and published his ruminations on the Cambridge spy affair in a memoir titled Was There a Fifth Man? The book details stories about his experiences in support of U.S. intelligence agencies. Those exploits included, in August 1944, his flying plans for proximity fuses (an important NBS military invention) from the United States to England in a plane without lights and with blacked-out windows to avoid anti-aircraft artillery.
In his memoir, Mann showed via dated correspondence, publications, and verified passport entries that he was incapable of having worked with Donald Maclean as "Basil" in the British Embassy. Mann stated in his memoir that while he could not prove that the character "Basil" did not exist, he "could prove that the Basil described was not I."