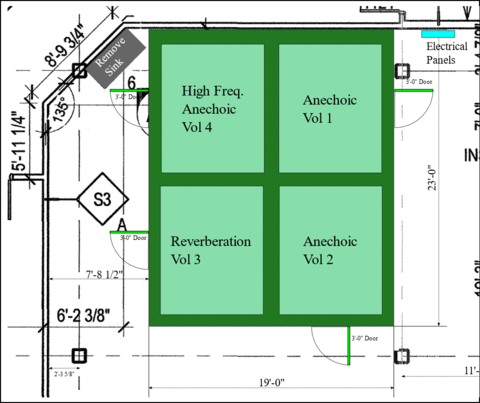 CTL's newest testbed is the 5G Coexistence Testbed brings the newest generation of end-to-end 5G New Radio mm-Wave technology to its suite of testbeds while complementing its existing facilities.  The techniques and metrology derived from this testbed will have applications in everyday wireless communications, IoT, and 5G networks – thus furthering the NIST mission of "promoting industrial competitiveness through advancing measurement science in telecommunications to allow for improved quality of life".
The resiliency of the American workforce depends on trusted communications systems now, more than ever. In the coming years, significant economic growth will come from advancements in trusted communication networks that enable a fully connected world through millions of devices providing on-demand access to data, systems, and each other.  With the FCC continuing to modernize its frequency allocations and uses, this creates new spectrum sharing challenges that require innovative measurement techniques.
Creating a new state-of-the-art testbed in a pandemic required the experienced build team of Jason Coder, Dr. Duncan McGillivray, and John Ladbury to once again innovate and navigate difficult situations while ensuring the safety and productivity of the installation team.  The country doesn't stop innovating because there is a pandemic.  It drove the team to find new ways to work through the challenges the global pandemic presented to help do our part to ensure NIST and CTL were able to continue serving the American economy.  Working with the three researchers was a team of outside experts, electricians, and other tradespeople all working to construct the chambers in a safe and timely fashion. The installation was completed without any safety incidents, quarantines, or positive COVID tests.
The testbed features a carrier-grade implementation with a focus on metrology for emerging 5G spectrum sharing, coexistence, and interference testing. The four shielded chambers (three anechoic, one reverberation) enable a wide array of controlled environments – from free-space to highly reflective. The chambers also feature removable apertures enabling individual chambers to be coupled together, as well as hardpoints for mounting robotic arms or other test equipment. Each chamber was specifically designed to facilitate testing across a wide range of frequencies.
This new facility and infrastructure enable the development of new measurement methods to tackle the spectrum sharing challenges of today, tomorrow, and beyond. The research team is working to develop new measurement methods to assess spectrum sharing scenarios and work proactively to design wireless systems that facilitate coexistence.
The stand-alone new-radio (NR) network and accompanying laboratories will serve as a unique platform for CTL and the stakeholder community, positioning CTL at the forefront of developing test methods and performing experiments on the latest generation of communication systems. The research topics & projects served by this testbed have the potential to drive smart wireless systems testing (statistical testing), and significantly improve the quality of measurements used for regulatory decisions; fostering risk-informed regulatory decision-making processes.
With a proven reputation built on years of success, The Communications Technology Laboratory (CTL) applies its award-winning teams and dedication to partnerships to look long-term to aid industry bridge the lab-to-market gap.  With an array of state-of-the-art testbeds, CTL is proud to continue to host NASCTN partners agencies like DoD, NASA, NOAA, NSF, and NTIA to propel measurement science across the government and efficiently share resources.  These partnerships, as well as our own testing projects, have led to a vast arsenal of data ready for Industry and fellow researchers to apply to their projects and innovations.  
As CTL brings online the new testbed, it looks ahead to continuing its existing partnerships while forging new ones to achieve the full potential of our communication networks.  Read more about the Communications Technology Laboratory and our available partnership opportunities.