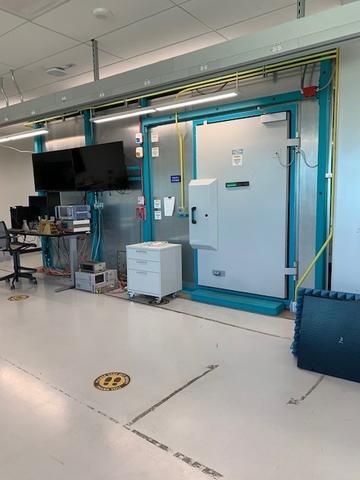 The 5G Coexistence Testbed applies the newest generation of end-to-end 5G New Radio technology, including mm-Wave capabilities.  The techniques and metrology derived from this testbed will have applications in everyday wireless communications, IoT, and networks in 5G and beyond – thus furthering the NIST mission of "promoting industrial competitiveness through advancing measurement science in telecommunications to allow for improved quality of life".
Carrier-grade implementations with a focus on metrology for emerging spectrum sharing, coexistence, and interference testing, the suite of four chambers serve to complement CTL's existing facilities. The new 5G infrastructure available in these new facilities, is also available in CTL's other facilities, namely the NBIT facilities.
The stand-alone LTE and new-radio (NR) networks and accompanying laboratories will serve as a unique platform for CTL and the stakeholder community, positioning CTL at the forefront of developing test methods and performing experiments on the latest generation of communication systems. The research topics & projects served by this testbed have the potential to drive smart wireless systems testing (statistical testing), and significantly improve the quality of measurements used for regulatory decisions; fostering risk-informed regulatory decision-making processes.