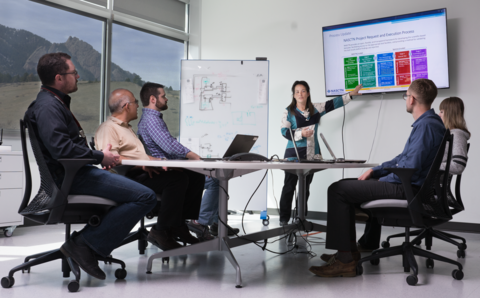 The National Institute of Standards and Technology's Communications Technology Laboratory (NIST CTL) was established in 2014 to unite NIST's many wireless communications efforts into a unified research and development organization. Advanced communications are enabling dramatic changes in how consumers, manufacturers, governments and others consume information, transact business, provide and use essential services, and shop.  Industry analysts predict 29 billion connected devices globally by 2022, with U.S. wireless providers slated to invest $275 B in infrastructure that will add jobs and boost the economy.  
NIST's predecessor, the National Bureau of Standards (NBS) was doing radiofrequency measurements as early as 1911. Our radio science was critical to the operation of U.S. aircraft, communications and missiles during World War II. In 1954, President Dwight D. Eisenhower dedicated what's now known as NIST Boulder Laboratories as NBS's Central Radio Propagation Laboratory, a national research center for radio physics and radio engineering measurements, metrology and standards development.
Today's Focus
With expertise honed over decades of research in antennas and wireless propagation, materials science and electronics testing, as well as communications network protocols and standards, CTL serves as an independent, unbiased arbiter of trusted measurements and standards to government and industry. We focus on developing precision instrumentation and creating test protocols, models and simulation tools to enable a range of emerging wireless technologies. Driving much of our work is a spectrum crunch in historically coveted wireless bandwidths. Without a new generation of extremely high-speed, sophisticated wireless systems whose capabilities and limits we're only beginning to understand, the spectrum crunch threatens to dampen the potential of wireless data applications as diverse as mobile video, wearable devices, and smart vehicles.
CTL is also a central player in the nation's efforts to modernize the U.S. public safety communications infrastructure. As the R&D lead for FirstNet, the CTL Public Safety Communications Program provides research, development, standards, testing, and evaluation to foster robust, interoperable, nationwide first-responder communications.
In addition, CTL is home to the National Advanced Spectrum and Communications Test Network (NASCTN). NASCTN provides a neutral forum for addressing spectrum-sharing challenges. NASCTN brings together participants from other federal agencies, including U.S. Department of Defense, the National Oceanic and Atmospheric Administration (NOAA), the National Science Foundation (NSF), and the National Telecommunications and Information Administration (NTIA) to develop robust test processes and validated measurement data necessary to develop, evaluate and deploy spectrum sharing technologies that can increase access to the spectrum by both Federal agencies and non-federal spectrum users.
Most of our work happens in four major programs:
Public Safety Communications Program
Next-Generation (5G and Beyond) Wireless Program
Trusted Spectrum Testing Program
Fundamental Metrology for Communications
Our Organization
These programs are multidisciplinary, involving collaboration among experts working on custom-developed research assets in areas including high speed measurements, channel modeling, wireless spectrum sensing, antenna characterization, wireless coexistence, measurement traceability, and many more. From a strictly org-chart perspective, NIST CTL researchers work in groups under the auspices of four organizations:
National Advanced Spectrum and Communications Test Network (NASCTN)
Public Safety Research Division
Radio Frequency Technology Division
Wireless Networking Division
Individually, our researchers characterize as well as develop highly specialized technologies to overcome wireless communication challenges facing government and industry. Together, they're building the foundations for the wireless networks of the future.