Cybersecurity Career Week
October 16-21, 2023
nist.gov/nice/ccw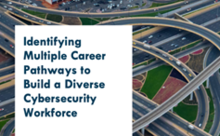 The pathways to – and through – a career in cybersecurity are truly innumerable, beginning with a wide array of starting points, moving through countless combinations of education, training, and learning experiences, and leading to a broad range of cybersecurity of job opportunities.
To help navigate these multiple pathways, a curated list of resources are available online, including the recently released poster and report on Identifying Multiple Cybersecurity Career Pathways. 
Cybersecurity Paths and Ladders
Join us virtually today at 2-3pm ET for a webinar where we will feature subject matter experts and cybersecurity practitioners who have advice and insight on how best to gain traction on your future career success. Register online to receive the webinar link. 
There are several other events and activities happening around the globe during Cybersecurity Career Week. Find one to participate in by exploring the event portal online. 
View All Events and Activities
---
Cybersecurity Career Week is coordinated by NICE and supported by a community of government, academic, non-profit, and private industry stakeholders. Commercial entities, materials, and resources provided in support of Cybersecurity Career Week may be included in this email or on the nist.gov/nice/ccw web site or linked web sites. Such identification is not intended to imply recommendation or endorsement by NIST.