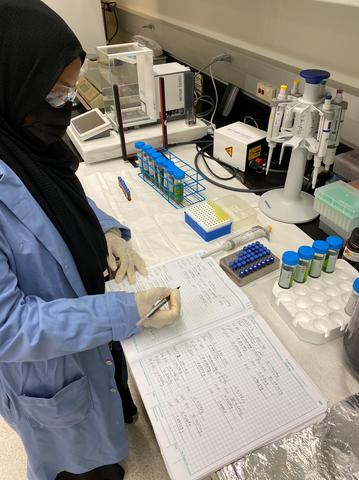 By: Christina Reed
Maryam Abdur-Rahman is a Montgomery County Community College (MCCC) intern conducting forensic science research with NIST's Cannabis team in the Chemical Sciences Division. Her job has been to help the team chemically analyze different compounds in the plant. While a marijuana high comes from tetrahydrocannabinol (THC) — the calm comes from cannabidiol (CBD), a nonintoxicating compound. Different parts of the Cannabis plant have different levels of THC and CBD, but if the US Department of Agriculture tests bulk plant material from a farmer, or a police officer confiscates a sample from a consumer and a forensic lab shows the sample has 0.3% THC or more, it's considered marijuana. Anything less, is hemp.
Abdur-Rahman started her internship in January 2020. At first, she read and became familiar with scientific journals related to cannabis research. "I also did a lot of my own background research on the legality of cannabis and hemp," she says. "Then came my introduction to the instrumentation we would use in the lab." Part of her project involved developing new sample preparation protocols as well as standardizing analytical detection methods, with the goal of reducing measurement discrepancies and minimizing workflow for Cannabis testing laboratories.
"It took some time for me to understand the inner workings of the Cannabis Analyzer, but with the help of supplemental research and the teachings of my mentor, I was able to figure it out," Abdur-Rahman says. "Furthermore, I learned of the importance of sample preparation as I began to experiment with different protocols." Prior to lockdown, she was able to spend a few months in the lab. "I would get half a gram of Cannabis material; use 20 ml of methanol to extract the THC; then vortex the sample; put it in a shaker; centrifuge it; take out the 20 ml of methanol and put in fresh methanol; then run it through the HPLC (high-performance liquid chromatography)." The HPLC separated the compounds and allowed Abdur-Rahman to determine exactly how much THC or CBD was in a sample.
"My overall contribution was experimenting with different extraction protocols in order to optimize the preparation method. I mainly worked with the HPLC method, but I've also recently had the opportunity to explore other methods alongside other NIST scientists; examples being IR (infrared) Spectroscopy and GC-MS (Gas Chromatography-Mass Spectrometry)."   
The team started with 50 kg of hemp biomass. The goal was to homogenize the material through grinding and sieving to "get consistent THC levels so that you could take a sample from that batch and even though it's only half a gram it would be representative of the whole," said NIST research chemist Brent Wilson, Abdur-Rahman's advisor.  Besides helping to differentiate best practices, Abdur-Rahman helped the team "screen Cannabis samples for potential usage in our Cannabis Quality Assurance Program (CannaQAP) and a hemp plant reference material," he adds.
The team has since created a suite of hemp and marijuana samples with various known percentages of different compounds. For the next step, they have sent those samples out to several other labs without telling those labs how much of the compounds they will be testing for in the samples. Once the labs come back with their own measurements, NIST will anonymize all the results and share which methods provided the most accurate results in a final report.
As for Abdur-Rahman, she has graduated from MCCC and will begin as a junior at the University of Maryland, Baltimore County this fall. "The NIST internship solidified my career path," she says. "During the lockdown, I learned how to write scientific reports with the help of my mentor that summarized our work and presented our results."
In November she also participated in the NIST 2020 Forensic Cannabis Workshop. Her presentation, "Evaluation of a LC-PDA method for measuring 11 cannabinoids in Cannabis samples," discussed the objectives of her project, her method development, sample preparation protocols, and results as it related to the HPLC method. "Overall, it went well," she exclaims. "I was able to present my work to cannabis industry professionals alongside other NIST scientists. It was a great experience for me as I had only ever presented in front of other NIST interns prior to this. The Q&A portion of the session taught me a lot about the industry in general and how the work done at NIST plays a part in it."
But rather than continue in analytical chemistry, she will be pursuing a degree in biotechnology. "At Montgomery College, the biology labs there were some of my favorite classes," she says. "Better late than never, I learned from the internship that my love for science was for biology over chemistry." Besides the technical skills she learned through this internship, "I've also learned to have confidence in my own ability, which I owe to Brent for his constant encouragement and willingness to invest in my learning." 
NIST recruits interns through the Summer Undergraduate Research Fellowship (SURF), the Summer High School Intern Program (SHIP), the Professional Research Experience Program (PREP), and also posts job and internship availability at USAJobs.gov.
NIST 2020 Forensic Workshop 3, Part 1, which includes Abdur-Rahman's presentation: "Evaluation of a LC-PDA method for measuring 11 cannabinoids in Cannabis samples."