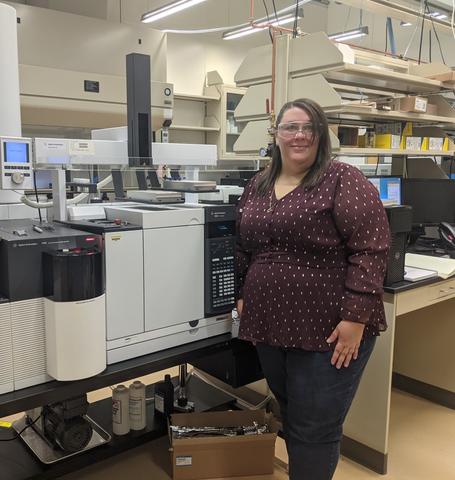 Keeping you safe with cutting-edge forensic science — NIST postdoctoral researcher Cheryle Beuning is part of a joint effort with the University of Colorado Boulder that is paving the way for a roadside marijuana breathalyzer.
We've established a mountain of data that we use to measure blood alcohol concentration levels and determine whether a person is intoxicated by measuring the amount of alcohol in a person's breath ... but the study of cannabis is still in its infancy, and we have a long way to go before we can accurately do the same for its use.
Cheryle and her colleagues are taking the first step by seeking to answer one basic question. If someone used cannabis, how recent was that use?
The chemical compounds in cannabis are harder to measure with a breathalyzer than alcohol because they don't make the jump as quickly from liquid in our blood and tissue to gas in our breath. The NIST team wants to measure that jump in order to determine what recent use (within hours) actually looks like, chemically and biologically.
We are all relying on analytical chemists like Cheryle to use their skills and make sure the measurements are as accurate as possible. With that accuracy, a marijuana breathalyzer can help keep our roadways — and everyone who uses them — safe.
Cheryle recognizes a lot of opportunities to do good as a scientist in the field of cannabis research and can already visualize the real-world outcomes of her work in measurement standards. But NIST might not always be her place to do that good work, since Cheryle has long held the dream of owning her own analytical company in the cannabis industry.
Instead of jumping right into that dream, she's laying her own professional groundwork with us, and we're glad to welcome her in.