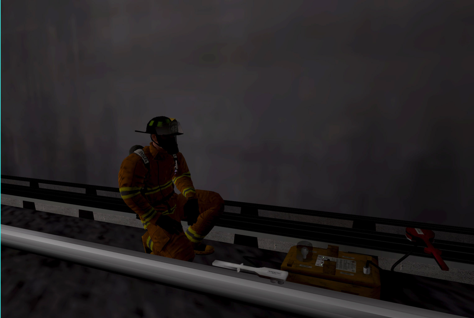 First responders are seeing a significant increase in the amount and types of data available to them while responding to emergencies. To maximize the value of these data sources, user interfaces (UIs) need to be designed to allow first responders to interact effectively with the data and respond in a timely manner, without inducing undue errors or additional mental workload.
UIs have a great potential for aiding in situational awareness for first responders if they are designed with the unique needs of first responders in mind. That's why a new study by a NIST PSCR award recipient, North Carolina State University, is seeking current and past firefighters over the age of 18 to participate in a web-based study focused on an emergency response scenario. The study was originally designed to be based in virtual-reality, but changed to web-based as a result of the Covid-19 pandemic.
The PSCR Communications Team sat down with the study's researchers to learn more about the potential impact of this research.
What is this study all about?
North Carolina State University (NCSU): This study will help shed light on how heads-up displays (HUDs) should be designed to support the goals of first responders. We are particularly interested in exploring how information should be presented to first responders in order to improve task performance, reduce mental workload, and improve interface usability.
Participants will step into the shoes of a firefighter responding to a subway emergency call. The virtual scenarios require participants to complete a series of tasks as they search for a disabled rail car. During the scenario, some participants will have access to a virtual HUD that will provide task support such as navigational information whereas others may not. Our team has developed tutorials to get participants accustomed to the scenarios, which function similarly to a computer game. After a brief tutorial, a training scenario, and two "test" scenarios, all participants will complete a survey asking about their experiences, from how engaging the experience was to which elements were beneficial or what they think would help even more.
The study results will inform best-practices for designing HUDs that are most helpful for first responders. 
Why is this research area important?
NCSU: We know that certain design elements, while intended to be beneficial, can contribute to cognitive overload and poor user experience, and it's important for us to discover what works and what does not from the people who will actually make use of this technology.
Our goal is to provide results that help inform the design of technology that first responders can use that gives them the information they need when they need it and in ways that work best for them. By using virtual environments as a testbed, we can investigate the efficacy of solutions prior to investment in real-world designs.
What will this research inform?
NCSU: Our research aims to inform intelligent UIs and how they should be designed to support first responders. Intelligent UIs adapt the information presented to users based on an analytical understanding of the user's task state (type of task, location, etc.), goals, and competencies to support more effective, efficient, and natural system interactions.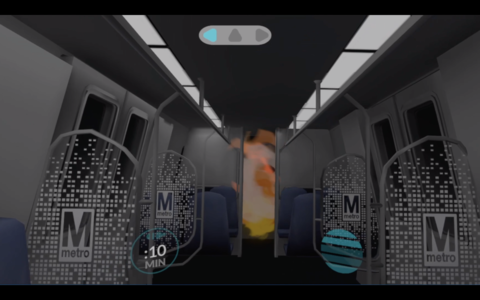 In the context of this study, participants are responding to a subway emergency. As smoke fills a tunnel, an intelligent UI alerts the first responder of 1) a list of tasks to complete, e.g. double check the control station or 2) important situational cues, e.g. another unit has arrived at the scene. These cues would be tailored to provide operators with the most relevant information they need to perform the given task. 
How should people get involved?
NCSU: The current study requires web browser access via desktop or laptop computer. Firefighters who are interested in participating can visit our project website and click on the "Research Study Participants" page: http://projects.intellimedia.ncsu.edu/intellivisor/ 
We will be actively collecting data until May 1, 2021. The results will be presented at several conferences, including PSCR's digital stakeholder meeting in June 2021.
---
PSCR would like to thank Randall Spain and the team at NCSU for sharing their story with us. For more information on the web study, please contact the research team.