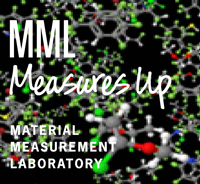 A new NIST standard ensures reliably accurate comparisons of measurements of the purity of tens of thousands of organic materials used throughout the world—in industries from pharmaceuticals and biotechnology to plastics and petroleum refining, in research and forensic labs, in medical testing facilities, and much more.

NIST PS1, "Primary Standard for quantitative NMR (Benzoic Acid)," is the first of its class, sited at the pinnacle of a vast array of measurement traceability chains. These chains provide a direct metrological link to the International System of Units (SI), enabling valid comparison of chemical measurement results over time and place. This uninterrupted connection ensures confidence in transactions requiring highly accurate determinations of the amount of a specified compound in solution—or the solution's level of purity for that particular chemical, be it cholesterol, aspirin, an antibody, dye, coating, perfume, or any others among thousands of useful organic compounds.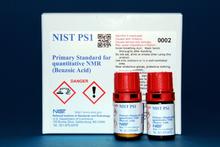 NIST PS1 will serve as a one-for-all master calibration reference for diverse organic compounds,  validating standards for each chemical of interest—regardless of the analytical method used. In practice, NIST PS1 functions as a standard's standard. It will be used by commercial producers of measurement references and other organizations to validate their standards for specific compounds and applications, thereby achieving SI traceability for each.  These validated secondary references can then be distributed to a much larger community of users who require accurate measurements of chemical purity for each of the products or services they offer.
"NIST has made an immeasurable contribution to the field of organic chemical metrology, allowing scientists internationally to establish the traceability of their measurements, and advancing the use of qNMR as a 'cornerstone' analytical technique in the field."
- Pearse McCarron, National Research Council of Canada
To develop PS1, an international collaboration led by NIST scientists leveraged new measurement capabilities enabled by nuclear magnetic resonance (NMR). Long used to determine the identity and structure of chemical substances, NMR has become the go-to tool for measuring the amount of a substance, dubbed quantitative NMR (qNMR). Using highly purified benzoic acid from Sigma Aldrich Production GmbH, NIST researchers developed purity estimation capabilities for qNMR. In tandem, they implemented an efficient, internationally recognized measurement process for highly accurate determinations of the amount of specific organic compounds in reference materials. As a result, scores of industries have an indispensable tool for achieving valid measurements of chemical purity for most organic compounds.
"NIST standards for qNMR applications help our company deliver safe and effective products that are essential to health care."
- Christina M. Szabo, Director, R&D, Advanced Chemistry & Investigations, Baxter International Inc.
Through cost-free material transfer agreements, NIST distributes NIST PS1 to National Metrology Institutes, government agencies, and commercial producers of measurement references around the globe.
1 NIST Primary Standard for organic chemical purity benefits a diverse range of industries that make products ranging from chemical feedstocks to tires to pharmaceuticals
10,000 U.S. firms, employing 811,000 people, make more than 70,000 chemical products, a large portion based on organic compounds