Over three weeks in late April and early May, more than 400 Baldrige examiners, judges, and special guests completed the 2017 Baldrige Examiner Preparation Course, practicing and refining their understanding of the six-step Baldrige item evaluation process, the Baldrige Excellence Framework, and the considerations that go into an organizational assessment. 
The Baldrige Examiner Preparation Course was designed to prepare participants to evaluate an application for the Malcolm Baldrige National Quality Award, the nation's highest honor for organizational performance excellence. The 343 examiners who completed training will receive those application assignments or may be assigned to another Baldrige role; for example, serving as a technical editor for Baldrige feedback reports, writing or providing expert review for case study teams, and participating as part of a Baldrige Collaborative Assessment.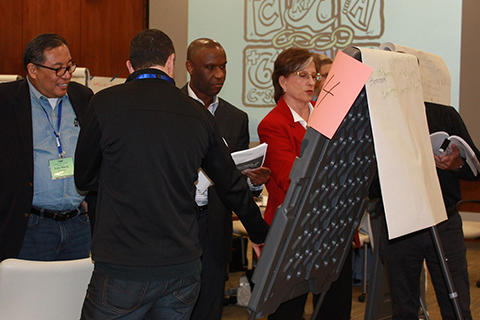 Rather than focusing on lecture, the course aimed to provide a learning-lab-like experience where participants learn from practice and sharing insights with one another. A case study was used to build cross-sector knowledge among examiners, and an evaluation of that case study by a team of alumni examiners was used to provide a model. In addition, experienced examiners were paired with new examiners in mentoring relationships and as anchors during small-group discussions. Training emphasized the examiners' evaluation skills, comment-writing skills, and specific items of the Baldrige Excellence Framework.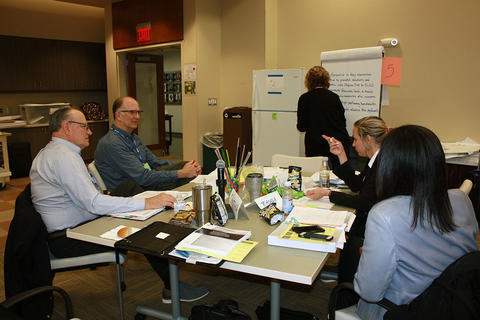 In addition, 76 guests participated in training as part of the Baldrige Examiner Training Experience; they trained alongside the Baldrige examiners but will not take an assignment for the Baldrige Program or be part of the Board of Examiners.  Among the 76 guests, two came from other countries (Brunei Darussalam and Philippines) and will use their knowledge to benchmark and improve their own country's Baldrige-based assessment processes and national awards.

Several participants offered their thoughts on how they benefited from the Baldrige Examiner Preparation Course:
 
"Once again, it was a chance to meet and engage with others who are passionate about performance excellence. It was another good chance at diving deep into the Baldrige Criteria." Nathan Verhanovitz, Performance Engineer, Infrastructure Planning and Facilities, Power and Water, Michigan State University
"The facilitative sessions were very organized and helpful in my understanding the process of the Baldrige framework. The interactive work sessions with different senior and alumni examiners added value to my understanding of the examiner's role and how to approach, deploy, learn, and integrate my Baldrige comments." Dr. Edith Rayford, OB/GYN Physician and Director, Southwest Clinic, Central Mississippi Health Services, Inc.
"The greatest strength is the interaction between new, returning, and senior examiners at the individual tables. I learned a great deal from them, and they offered a lot of good advice that I will utilize. For example, they suggested ways to organize my thoughts as I read the application and how to construct effective feedback-ready comments. The second greatest strength was the effectiveness of our facilitator in engaging the participants in thoughtful discussion." Natalie Hawkins, Assistant Village Manager, Village of Pinehurst, NC
"The table activities keep the participants engaged. Great discussion facilitated by the senior examiners. I appreciate the times provided to network with fellow examiners. I find Malcolm Baldrige examiners to have rich stories, and I find all of them so helpful and kind, which is so refreshing nowadays." Randall Smith, Dean of Business, Northeast Wisconsin Technical College 
"Going through the process with returning, senior, alumni examiners, and judges was a great opportunity to see the process in action and gave a great deal of insight applying the Criteria in the framework. Makes the great content in the framework come alive." Lyle Beefelt, Director of Management and Budget, Prince William County Service Authority
The application for appointment to the 2018 Malcolm Baldrige National Quality Award Board of Examiners will open in November 2017. More information is available on the Become a Baldrige Examiner page. In addition, professionals who don't have the time to commit to being a Baldrige examiner can still benefit from the training by participating in the Baldrige Examiner Training Experience; registration opens in January 2018.
The Baldrige Program and its Baldrige examiner training have been nationally recognized with LEAD Awards as among the very best U.S. and global continuing education programs in leadership development. The LEAD Awards, highlighted in Leadership Excellence Essentials magazine and presented by HR.com, recognize and honor corporations, educational institutions, and individuals who excel in offering top leadership initiatives and programs on a local to global scale. In 2017, Baldrige was the only state or Federal government program to be recognized, often in the first or second slot, within its LEAD award categories, highlighting leadership, organizational development, and human resources. Before 2015 and the change of category types, Baldrige examiner training was highlighted in the Baldrige Program's multiple first-place honors in the government and military category of the Leadership 500 Excellence Awards.