Katharine Blodgett Gebbie, a visionary physicist and senior government research administrator who supervised and mentored four Nobel laureates in physics, died August 17, 2016, in Bethesda, Maryland. The cause of death was complications from an infection, according to her sister Margaret Alkema. She was 84.
Gebbie was the director of the Physical Measurement Laboratory (PML) and its predecessor, the Physics Laboratory, at the U.S. Commerce Department's National Institute of Standards and Technology (NIST) for 21 years. At the time of her death, she was serving as a senior advisor to the current director of the PML, which includes more than 1,000 scientists, technicians, guest researchers and administrative staff.
Under Gebbie's leadership, scientists within the NIST Physics Lab and PML earned four Nobel Prizes in Physics from 1997 to 2012 (William Phillips, 1997; Eric Cornell, 2001; John Hall, 2005; David Wineland, 2012).
An astrophysicist by training, she began her NIST career at JILA in Boulder, Colorado, in 1968. JILA is a joint institute managed by NIST with the University of Colorado Boulder.
Since 1990, Gebbie has lived in both Bethesda, Maryland, and Boulder, Colorado, and worked at the NIST headquarters in Gaithersburg, Maryland.  
"Katharine was fiercely loyal to NIST and a role model to me and many other NIST scientists and staff," said Willie E. May, Under Secretary of Commerce for Standards and Technology and NIST Director. "She recruited and nurtured a remarkably talented staff over almost five decades. She was perhaps the only research director anywhere to have had four Nobel Prize winners in physics reporting to them at the same time. We are deeply grateful for her outstanding public service and will miss her dearly."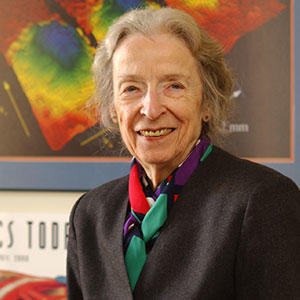 Gebbie received many honors including the Presidential Rank Award in 2006, the Government Women's Visionary Leadership Award in 2006, the Service to America Medal (Career Achievement Award in 2002), the U.S. Department of Commerce Gold Medal, and election to the American Academy of Arts and Sciences, among others.  
She was well known worldwide in the scientific community for her leadership of NIST's many advanced physics research efforts in fields as diverse as nuclear non-proliferation, quantitative medical imaging, atomic timekeeping and quantum computing. 
In recognition of her exemplary 45 years of service to the nation, NIST formally renamed its most advanced research building at its Boulder campus as the Katharine Blodgett Gebbie Laboratory in December 2015. At the dedication ceremony for that event, she was praised for her supportive management approach to leading a staff of creative Ph.D. scientists. Gebbie described that style as, "Plant, water and watch them grow." 
In addition, Gebbie was a strong advocate for supporting and increasing the number of women and minorities in science, technology, engineering, and mathematics careers. For example, two world-renowned physicists at JILA who worked for and were mentored by Gebbie won MacArthur Fellowships (also known as the "genius grants") Deborah Jin in 2003 and Ana Maria Rey in 2013. She is also credited with helping to found NIST's Summer Undergraduate Research Fellowship program, which employs more than 200 college students in NIST laboratories every summer.
Inspired by her famous aunt, Katharine Burr Blodgett, for whom she was named, Gebbie's fascination with science began at an early age. Her aunt was awarded a Ph.D. in physics in 1926 from the University of Cambridge, the first woman there to do so. Blodgett invented "invisible glass" and other notable technologies.
Gebbie graduated from Bryn Mawr College with a B.A. in physics in 1957, and went on to earn a B.Sc. in astronomy and a Ph.D. in physics from University College London in 1964. 
Gebbie was married to Hugh Alastair Gebbie, a Scottish physicist who died in 2005. She is survived by her sister Margaret B. Alkema of Meredith, New Hampshire; niece Ada Marijke of Hamburg, Germany; niece Deborah Alkema of San Francisco; nephew Jonathan Alkema of San Francisco; and her long-time friend and housemate, Sara Heap of Bethesda, Maryland.