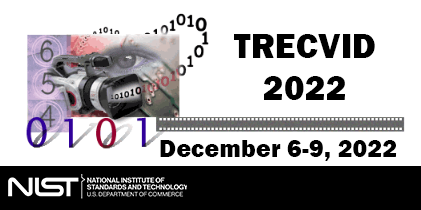 TRECVID is hosted by the National Institute of Standards and Technology (NIST). The workshop's goal is to encourage research in content-based video retrieval by providing a large test collection, uniform scoring procedures, and a forum for organizations interested in comparing their results. This year, TRECVID tracks included: Ad-hoc Video Search,  Movie Summarization, Video-to-Text, Disaster Scene Description & Indexing, Deep Video Understanding, and Activity Detection in Extended Videos.  
Due to COVID-19, the 2022 TREC Video Retrieval (TRECVID) workshop will be virtual, running December 6-9, from 8:00 AM to 12:00 PM EST time to accommodate most time zones. Workshop participants include researchers those who took part in TRECVID 2022 evaluation benchmark, and all external researchers from academia and/or industry who are are interested to join. The OpenMFC (Open Media Forensics Challenge will also be held within the TRECVID workshop. For information about OpenMFC, please contact haiying.guan [at] nist.gov (Haiying Guan)title="mailto:haiying.guan [at] nist.gov"). More information about the TRECVID program can be found on the TRECVID project page.
Who should attend the workshop? 
Attendance is strongly encouraged to all TRECVID participants. External researchers and stakeholders are encouraged to attend by contacting the workshop's Technical Contact, george.awad [at] nist.gov (George Awad), prior to registering. 
agenda