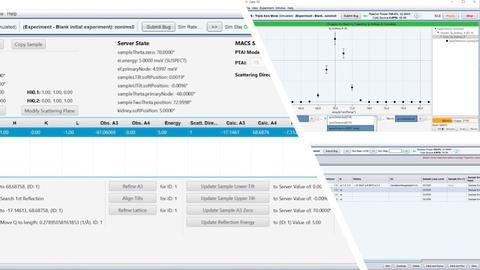 MACS is undergoing an instrument control upgrade to the current version of NICE.
The instruments at the NCNR require a reliable, powerful and flexible control system in order to take full advantage of the very limited neutron beamtime and allow for non-routine sample environments and experiments to be incorporated.
 It is implemented in a client-server architecture
The server performs the critical operations of coordinating instrument motions, device control and measurements in order to execute an experimental plan, and then gathering all the results into archival data files that are provided to the users.

The client program provides a graphical interface through which users operate the instrument and create the experiment plans to be executed by the server, while providing graphs and feedback on the results of current operations and scans, as well as a visual representation of the current state of the

instrument. Simple control can be achieved through the use of a GUI 'wizard'; advanced control is possible through 

the application programming interface (API).
By default the standardized NeXuS file format is supported as an output for each instrument, while additional file writers (e.g. text columns) can be added and turned on and off by instrument scientists.
Milestones achieved during the unexpected outage
Initial testing on MACS
Plotting multiple y-axis variables
Overlaying data sets. You can overlay any two plots you can access (see #2). Every plot/y-axis combo is graphed simultaneously.
Panning/Zooming, basically good modern navigation of the plot
Better log plotting and handling of 0 on a log plot (a common issue not handled elegantly by most plotting packages)
A smart tick labeling system
Integration with other NICE features such as findpeak and precise unit/precision display of all values.
Future feature: Plot old data – since plotting old data was thought of as strictly a reduction/analysis team issue NICE was not built with this capability in mind. This new system is designed around the requirement to be able to view any old data and is built to seamlessly transfer data behind the scenes as someone browses. 
Estimated Timeline
MACS initial deployment – 4/22

This version will contain all features needed to run most experiments (99%).

MACS full deployment goal – 6/23