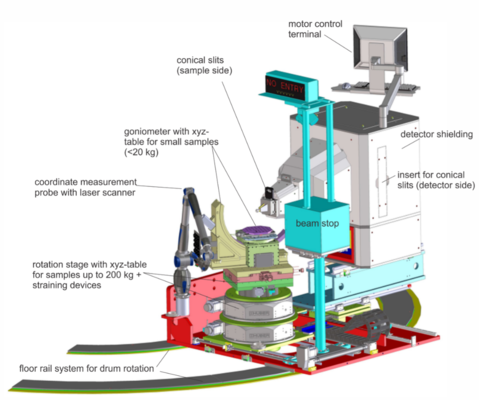 BT-8 Diffractometer for Stress and Texture
The BT-8 diffractometer supports primarily the engineering research needs of users from federal agencies, academia, and the American industry. The main areas of research are residual stresses as a result of manufacturing and processing, the measurement of applied stresses in multiaxial deformation, preferred orientation, and phase composition. Materials of interest are high-strength alloys used in additive manufacturing, steels for naval and automotive applications, and weld-induced stresses in structural materials.
Upgrade of the Stress Diffractometer BT8
The BT8 diffractometer was commissioned in 1995 for measurements of stress and texture. The primary components were copper [200] and [220] monochromators, a 10 cm x 5 cm position sensitive detector and a custom sample table. In the year 2000 the monochromator was upgraded to a double focusing silicon [100] monochromator, which approximately doubled the performance.
Preparations for a major upgrade of the instrument began in 2014 with the goal to achieve a performance increase of at least one order of magnitude through a combination of a large area detector and a multi-wavelength monochromator. Further added capabilities were aimed at innovative straining devices for the study of multiaxial deformations, vastly improved sample positioning and orientation, and a load balancing jib crane.
As of February 2023, the upgrade has been completed. All instrument front end components have been replaced, with the instrument now featuring a large, high-pressure 3He area detector, single and multi-wavelength monochromators, two multi-axial loading devices, separate sample stages for small and large samples, and a digital image correlation system for the measurement of plastic strain during multiaxial loading. A phi-chi goniometer with XYZ table serves both as sample positioning stage and as sample changer for high-throughput texture measurements. A coordinate measurement probe is available for aligning samples with complicated or irregular shapes. The data analysis software has been updated to allow for increased data volume (x10) and new modes of measurements in stress and texture.