A Message from the MML Director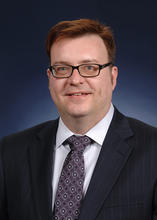 According to the American Society of Civil Engineers, nearly ten percent America's bridges are structurally deficient or functionally obsolete, one-fifth of our highway pavement is in poor condition, and over two trillion gallons of treated drinking water is wasted each year from an estimated 240,000 water main breaks. In short, our nation's physical infrastructure is in bad shape, and in dire need of attention.
A healthy physical infrastructure is essential for maintaining our physical security, preserving our quality of life, and helping our economy thrive. At NIST's Material Measurement Lab (MML), we are working to make a safe and healthy infrastructure a reality. From providing quality assurance standards that cement and steel manufacturers can rely upon to providing accurate assessment tools for pipeline manufacturers and water treatment, our work enables a better, more reliable infrastructure network.
With so much of our infrastructure in need of attention, MML research also gives decisionmakers the intelligence they need to prioritize our nation's many infrastructure projects. Our work helps ensure the accuracy of steel hardness measurements, which are used to
check the strength of steel alloys that may be used in infrastructure projects. We measure impact energy, which helps to predict when structures are in need of replacement or repair (before catastrophic failure). We also calibrate the equipment that can measure flaws and weaknesses in existing infrastructure without damaging it or taking it out of service.
To ensure we continue to innovate and lead physical infrastructure measurement, we have renewed our dedication to infrastructure research by making it part of the MML Strategic Plan. Our plan directs our materials and chemical scientists and engineers to develop new materials models that fully account for the ongoing reduction in structural capacity in infrastructure components and systems. Such models promise to guide the development of new infrastructure materials resulting in more effective, lower cost solutions.
In this issue of Material Matters, you can read about some of our latest infrastructure research, including advanced corrosion detection, an embedded, nanoscale composite damage sensor, and our ongoing project to improve pipeline materials, in addition to research across the other areas of MML's research portfolio.
Part of NIST's mission is to improve quality of life, and little is more central to the quality of our lives than the infrastructure in which we live. Though much needs to be done, at MML we have the right tools to put words into action.
* During the transition to a new presidential administration, Laurie Locascio, MML director, is serving as NIST's acting associate director for laboratory programs. Michael Fasolka, long-time MML deputy director, is acting director of MML.