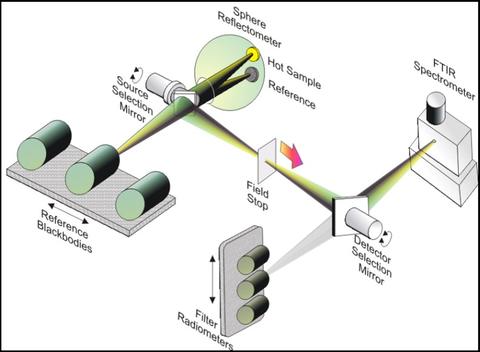 This facility enables the measurement of spectral emittance using the direct method of radiance comparison of the sample with a blackbody reference source. Spectral emissivity is a key physical property in the determination of radiation transfer and balance. Numerous industrial and scientific applications, such as remote sensing and single- and multi-band pyrometry, require its accurate determination.
The sample emittance is determined through a series of measurement steps. The first step is a measurement of the sample's hemispherical-directional reflectance at the measurement temperature and at a single wavelength matched to the filter radiometer. A diode laser or broadband source input to the integrating sphere, is selected based on the temperature and rough emittance value of the sample. The reflectance is obtained via comparison to a calibrated standard.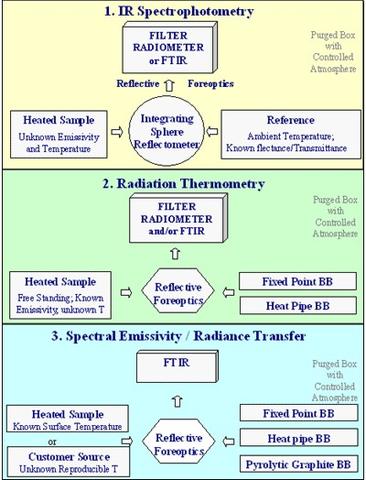 The second step is a relative radiance measurement of the sample to a blackbody at the same wavelength. The integrating sphere is removed for the second step. The temperature is then calculated from the results of these two steps. This procedure has the benefit of obtaining the temperature of the sample from the region on the sample identical to that for which the infrared spectral emittance is measured. It also makes use of the steep short wavelength edge of the Planck function for sensitive (and higher accuracy) temperature measurement.
Finally, the Fourier transform infrared spectrometer is used to compare the sample spectral radiance to that of the reference blackbody source as a ratio, and the sample emittance is obtained from the ratio and Planck's Law using the sample and blackbody temperatures.
Alternatively, spectral directional emittance can be determined indirectly from reflectance and transmittance measurements described in Infrared Spectrophotometry. These capabilities have limits of temperature, measurement geometry and sample type.