This page contains information about the NIST Cybersecurity Framework, which is a widely used approach to help determine and address highest priority risks to your business.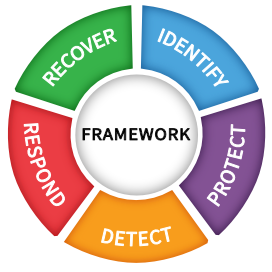 Cybersecurity Framework Quick Start Guide - Getting Started with the NIST Cybersecurity Framework: A Quick Start Guide provides activities for each Function of the Cybersecurity Framework that may be good starting points for small businesses. The Quick Start Guide has been translated into Portuguese and Spanish.
National Institute of Standards and Technology
Understanding the NIST Cybersecurity Framework – overview of the framework and how to put it to work in your business
Federal Trade Commission
NIST Cybersecurity Framework – links to the framework itself and other resources to help you apply it to your business
National Institute of Standards and Technology
Cybersecurity Framework for Small Manufacturers
Cybersecurity Framework Steps for Small Manufacturers - helps small manufacturers understand the NIST Cybersecurity Framework and how it can be used to manage their cyber risks. 
Manufacturing Extension Partnership
NIST Manufacturing Profile – NISTIR 8183 - provides the Cybersecurity Framework (CSF) implementation details developed for the manufacturing environment including a roadmap for reducing cybersecurity risk for manufacturers that is aligned with manufacturing sector goals and industry best practices
National Institute of Standards and Technology
Manufacturers Guide to Cybersecurity for Small and Medium-Sized Manufacturers - Outlines common cybersecurity practices for small and medium-sized manufactures.  The activities are grouped according to the 5 Functions of the Cybersecurity Framework
Manufacturing Extension Partnership
Content outlined on the Small Business Cybersecurity Corner webpages contains documents and resources from our contributors. These resources were identified by our contributors as information they deemed most relevant and timely—and were chosen based on the current needs of the small business community.  Certain commercial entities may be identified in this Web site or linked Web sites. Such identification is not intended to imply recommendation or endorsement by NIST, nor is it intended to imply that the entities, materials, or equipment are necessarily the best available for the purpose.