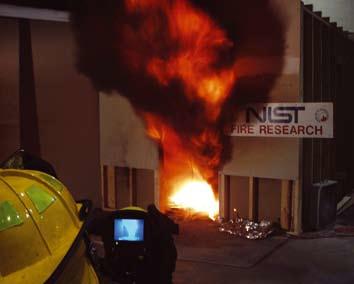 Testing the performance of Thermal Imaging cameras at the NIST Large Fire Facility.
Photo Credit: NIST
Infrared (IR) technology for firefighting applications has matured to the point that most first responder organizations in the U.S. either have purchased or are considering the purchase of thermal imaging cameras. Thermal imagers can provide first responders with critical information to size up a fire incident, track fire growth, and locate victims, other first responders, and egress routes. While these devices represent a significant investment, typically on the order of $10,000 per camera, first responders have little guidance on instrument performance beyond manufacturer literature and recommendations from other users. These issues are further complicated because the demands placed on thermal imagers are application dependent. The end users may have very different ideas about which imaging properties are most important: sharp image contrast may be sufficient for some firefighting applications, such as finding the source of a fire, but high thermal sensitivity may be required to locate a person or structural component when flames and water are in the imager's field of view.
Over the past several years, NIST's Fire Research Division has been developing a suite of performance metrics and test methods for inclusion in a national consensus-based standard on thermal imaging cameras used by first responders. The performance metrics are related directly to the environment in which the imagers are used and tasks typically performed by first responders. Laboratory test methods to measure image contrast, effective temperature range, spatial resolution, image uniformity, and thermal sensitivity are currently included in the draft standard. While these objective laboratory test methods were being developed, a parallel effort was made to investigate the appropriate pass/fail criteria to apply to them. Work was performed in collaboration with the Firefighter views the opening to a furnished room with a thermal imager as the compartment flashes over U.S. Army's Night Vision and Electronic Sensors Directorate in which the quality of thermal images common to firefighting applications was related to the ability of firefighters to perform a task. In this way, human perception was used to determine the quality of the image while the imagers are tested using objective test methods. This work has provided a technology- independent basis upon which test methods for image quality were developed for NFPA 1801, Standard on Thermal Imagers, currently scheduled for release to the public in early 2010.
WHY IS THIS IMPORTANT?

The photos above show the comparison of three different thermal imaging detectors looking at the same view shown in the bottom right.
Photo credit: NIST
 
Thermal imagers are needed by first responders for a variety of applications, including fire/hot spot detection and search/rescue operations. Although thermal imagers are becoming a common tool, they represent a significant investment and standards that assess the performance of these instruments is needed in order to help fire departments make educated decisions when choosing a thermal imaging camera. Manufacturer's literature does not provide consistent information upon which users can base purchasing decisions.
 
Thermal imagers are challenged in two general ways: first by harsh conditions, in which the camera's thermal detector may become saturated, or in which the range of temperatures detected becomes too wide for the optics and/or electronics to operate at the highest resolution; and second, by conditions in which the camera's signal to noise ratio and thermal sensitivity become important, i.e. where surfaces, gases, and aerosols in the field of view are at near ambient temperatures. Standard test methods that capture the potential usefulness of thermal imagers to first responders operating in both types of conditions are needed.
Measuring thermal imager performance also involves measuring the performance of the integrated camera system. Characterizing the contribution of the user displays to the overall package will allow a better understanding of where potential for improvement exists.
REPORTS
Thermal Imaging Research Needs for First Responders: Workshop Proceedings
The Impact of Thermal Imaging Camera Display Quality on Fire Fighter Task Performance
VIDEOS
Coming Soon