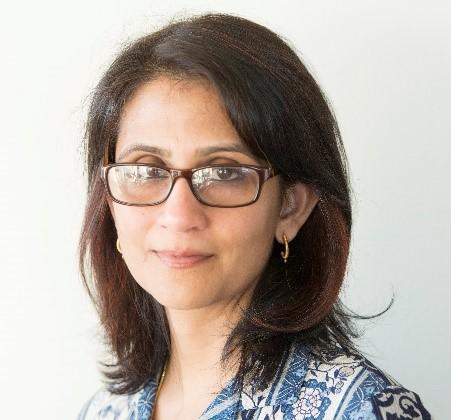 (Term expires:  March 31, 2026)
Monisha Ghosh is currently a Professor of Electrical Engineering at the University of Notre Dame, and an Adjunct Research Professor at the University of Chicago. She is the co-chair of the FCC's Technological Advisory Council (TAC) Working Group on Advanced Spectrum Sharing, and Policy Outreach Director for SpectrumX (https://www.spectrumx.org/ ), the first NSF Center for Spectrum Innovation.
Monisha recently completed a term as the Chief Technology Officer at the FCC in June 2021. In this role she reported to the Chairman of the FCC and was closely involved with setting national strategy and technology specifications related to the explosive growth of broadband wireless communications technologies.  These have included crafting rules and technology implementations for the 6 GHz unlicensed bands, overseeing protocols for the standardized measurement of broadband signals, and open RAN. Prior to that she served in the NSF as a rotating Program Director (2017-2019) where she managed wireless networking research. During her tenure at the NSF she is credited with initiating one of the first large scale programs that targets applications of machine learning to wireless networks.   
During her two leaves of absences at the NSF and FCC, Monisha was concurrently a Research Professor at the University of Chicago where she conducted research on wireless technologies for the IoT, 5G cellular, next generation Wi-Fi systems, coexistence and spectrum sharing. Prior to joining the University of Chicago in September 2015, she has worked extensively in industrial research and development at Interdigital, Philips Research and Bell Laboratories, on various wireless systems such as the HDTV broadcast standard, cable standardization and cognitive radio for the TV White Spaces. She has made active technical contributions to many industry standards, including IEEE 802.22 and 802.11. While at Philips she was responsible for conceiving of and designing the first blind equalization architecture to be incorporated into an integrated circuit product chip (Philips, digital TDA 8960 VSB channel decoder IC for digital TV, 1999).  
Monisha received her Ph.D. in Electrical Engineering from the University of Southern California in 1991, and her B. Tech from the Indian Institute of Technology, Kharagpur (India) in 1986. She is a Fellow of the IEEE.