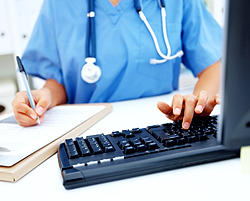 (+12 FTE, +$5,000,000)
Challenge
The revolution in information technology (IT) and its many benefits have largely bypassed the massive, $2.2 trillion U.S. healthcare system. The consequences are severe: poor coordination, administrative inefficiencies, inexorably rising costs, and avoidable medical errors.
As part of his plan to modernize the nation's healthcare system, President Obama has called for computerizing the medical records of every American. Today, only 13 percent of doctors use any form of electronic health records (EHRs)1 and about 25 percent of hospitals have some form of an EHR system. Yet, greatly expanded use of health information technologies is key to improving the cost and quality of healthcare. Studies estimate savings of more than $81 billion per year from better healthcare IT.2
Proposed NIST Program
For many years, NIST has been developing and supplying standards, tests, metrics, and other tools for makers and users of information-technology products. This initiative builds on these efforts, and expands upon NIST's standards development work on healthcare IT supported by the Recovery Act. It focuses on three elements essential to building a robust, reliable healthcare information infrastructure:
Facilitate and accelerate development of consensus-based standards and a conformance-testing infrastructure that supports the security and interoperability of EHRs through which a consumer's legal medical record will be available anywhere, anytime, but only to those authorized to access it.
Ensure that essential IT standards and guidelines are developed to enable and spread the use of telemedicine applications, which are of particular importance to the elderly and people who live in rural areas.
Work collaboratively with industry to develop standardized interfaces for connecting new healthcare devices to the U.S. healthcare infrastructure, including wireless technologies.
Expected Impacts
In fostering the implementation of a standards-based infrastructure for a nationwide health information network, NIST will open the way to many anticipated benefits, including:
Increased efficiency of healthcare service delivery;
Significantly fewer treatment-related errors;
Broad implementation of telemedicine;
Enhanced post-market surveillance of the safety of new drugs and devices; and
Progress toward cost-effective implementation of personalized medicine.
---
1J. Firshein, "Physician Adoption of Electronic Health Records Still Extremely Low," Health Information Technology Adoption Initiative
2R. Hillestad, J. Bigelow, A. Bower, F. Girosi, R. Meili, R. Scoville, R. Taylor, "Can Electronic Medical Record Systems Transform Health Care? Potential Health Benefits, Savings, and Costs," Health Affairs, Vol. 24, No. 5, Sept/Oct 2005, pp. 1103-1117.