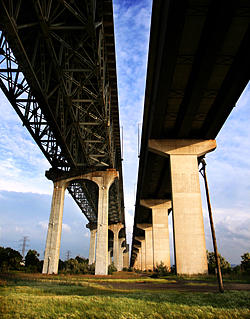 Challenge
The American Society of Civil Engineers (ASCE) 2009 Report Card for America's Infrastructure estimates that $2.2 trillion in spending over five years will be necessary to adequately address our infrastructure needs.1 Since 2005, when ASCE issued its last assessment, the price tag has increased by more than a third. The vast majority of our physical infrastructure has been in place for over 50 years without extensive repair, and it is aging poorly. The symptoms include long commutes, unending flight delays, failing dams and levees, contaminated water, bridge collapses, pipeline ruptures, and other costs. The President has committed to improving resilience of the nation's infrastructure, including investment in the most pressing short and long-term infrastructure needs. NIST has been performing research and developing standards relevant to infrastructure design and performance for decades, and it has collaborated effectively with other federal agencies to advance hazard assessment and forecasting capabilities.
Proposed NIST Program
NIST will develop measurement solutions required to quantify the remaining useful life of infrastructure, optimize short- and long-term investment in repairs, and enable intelligent, active management and control of infrastructural systems. Under this initiative, NIST will undertake collaborative efforts that will:
Assemble a comprehensive bridge-failure database, which will provide the ingredients necessary to develop models that can link bridge designs to the root cause of problems;
Collect critically needed data and develop models to ascertain how various mechanical properties impact the service and performance of existing and new types of structural materials;
Develop "gold standard" techniques, calibration protocols, and reference materials to reduce the error and uncertainty associated with field inspection methods and technologies; and
Build the measurement foundation for prioritizing remediation, developing codes and documentary standards, and supporting other actions needed to speed up repair activities and maximize their effectiveness.
Expected Impacts
These proposed research efforts will lead to:
Improved calibration standards for inspection techniques necessary to expand the capabilities and accuracy of these technologies;
More accurate detection of flaws in the field, allowing safety engineers to better assess the immediacy of repair needs;
Better data and models to prioritize repairs using predicted remaining services lifetimes and safety margins;
Improved accuracy—and confidence—in defining reductions in safety margins due to natural and man-made extreme conditions and in guiding improvements in new construction to enable sustainable structures; and
Enhanced capabilities for early detection of corrosion at critical components and connections, allowing earlier and cheaper remediation.
---
1American Society of Civil Engineers (ASCE) 2009 Report Card for America's Infrastructure