Challenge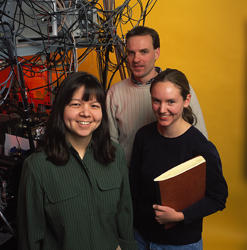 Space has run out at one of the nation's most valuable training grounds of top scientific talent. JILA, a joint institute of NIST and the University of Colorado at Boulder, has produced three Nobel Laureates and two MacArthur Fellows, all named in this decade alone. JILA researchers are leaders in atomic, molecular, and optical (AMO) science, a field that the National Academies says is "key to training our best scientists, engineers, and technical professionals."
In the last 13 years, JILA scientists have created two new types of matter. One may hold the secrets to superconductivity, which could lead to dramatically more efficient electrical power transmission. State-of-the-art devices for manipulating atoms, molecules, and light created by JILA scientists promise a cascade of new capabilities in biotechnology and healthcare, nanotechnology, energy, homeland security, and many other areas.
JILA is already over capacity, and the situation is getting worse. The existing group of 28 JILA research scientists could train approximately one-third more postdocs and student researchers, but there is literally no place for them to work. Current laboratory space is so cramped that safety concerns may begin affecting the lab's operations. JILA also needs specialized laboratory space such as cold rooms for biophysics research and clean rooms to support research in nanometer-scale electronics. An expert external assessment of the JILA laboratories warned that this shortage of space threatened JILA's ability to retain and recruit world-class scientists.
Proposed NIST Program
NIST proposes a limited expansion of the laboratory and office space at JILA. With the expansion costing an estimated $27.5 million, NIST would contribute $13 million in FY 2009 and an additional $9.5 million in FY 2010. The University of Colorado will contribute $5 million in funding, as well as land and infrastructure services such as electricity, chilled water, and steam.
The funding would add approximately 4,610 square meters (49,600 square feet) of new space. Improving the laboratory facilities at JILA will ensure that the current world-class research staff maximizes its potential for both training a new generation of scientists and producing the nanoscale manipulation tools needed to keep U.S. industry at the forefront of science. The expansion is expected to increase the number of AMO grad students at JILA by approximately 50 percent. Because JILA produces 5 to 10 percent of all AMO science Ph.D.s in the United States per year, this will step up significantly the nation's production of scientists in this important field.
Expected Impacts
Expanding JILA will produce outcomes directly aligned with the goals of the American Competitiveness Initiative, such as:
maintaining our nation's lead in science, by developing ultrastable atomic clocks, precision laser measurement tools, and new methods for probing the properties of ultracold matter;

increasing the nation's capacity to train top scientists, many of whom traditionally go on to work in government, industry, and academia; and

delivering innovations in technologies from lasers to airport security detectors that will improve our competitiveness and quality of life.