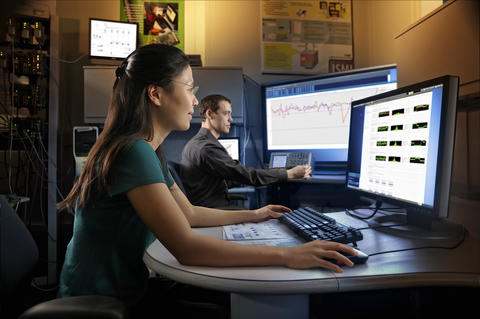 Cyber-physical systems (CPS) combine the cyber and physical worlds with technologies that can respond in real time to their environments and incoming data. Examples include intelligent medical devices that monitor body chemistry to deliver the right amount of medication at the right time, robotic systems that work side-by-side with humans, and energy grids that don't just supply power but have two-way communication with devices in homes and power plants to optimize energy usage. Cyber-physical systems are found in a range of industries essential to U.S. competitiveness, including manufacturing, transportation, energy, health care and defense.
As individual cyber-physical systems are linked together, they form a distributed network of sensors, controls and other devices in an "Internet of things" or the "industrial Internet."
The President's Council of Advisors on Science and Technology identified cyber-physical systems as a national priority for federal R&D. Deployment of next-generation CPS across the transportation, energy and health sectors alone could boost U.S. productivity growth by as much as 1.5 percent, according to some estimates. The implementation of new cyber-physical systems to achieve just a one percent improvement in efficiency can save $30 billion in aviation sector fuel costs, $66 billion in power generation, $63 billion in health care and $27 billion in freight rail costs over a 15-year period.*
To realize the full economic benefits of next-generation CPS, multiple challenges must be addressed. The design and engineering of a cyber-physical system, from initial concept through successful operation, requires a new systems science and engineering approach. This approach must simultaneously embrace all levels of the CPS architecture, from physical components and their associated sensors and actuators, through control systems and analytics, to the overall optimization and user functionality.
Advanced cyber-physical systems are so complex that current means for performance prediction, measurement and management do not apply. And much current CPS work is done in isolation, focused on solutions limited to a single domain such as health care or manufacturing, with limited cooperation across the commercial, academic and government sectors.
Proposed NIST Program
NIST requests an increase of $7.5 million to improve the design, performance and integration of cyber-physical systems that can reduce costs, increase efficiency and reliability, improve safety and provide security in national priorities for advanced manufacturing, health care, energy, defense, homeland security and transportation.
For design and engineering that can scale from the least complex cyber-physical systems to the most complex and across different types of systems, NIST will develop:

a common language and consensus of definitions;
robust and realistic formal methods for models and simulations that can be used across applications and that are based on sound principles from engineering, information technology, physics and materials science; and
tools, platforms, test beds and integrated design environments to apply these formal methods and standards to component design.

To improve performance prediction, measurement and management, NIST will focus on four areas:

metrics for operational performance such as accuracy, safety and reliability;
security and privacy status during operations;
sustainability and energy use (including advanced battery systems); and
performance and resilience, including fault and failure mode prediction and detection.

To jump start collaboration and sharing of best practices, NIST will support a new cross-domain, multi-sector group—the Cyber-Physical Systems Alliance—as a catalyst for research progress that will evolve into a self-supporting community-based organization.
Additional resources:
* Industrial Internet: Pushing the Boundaries of Minds and Machines
New Reports Define Strategic Vision, Propose R&D Priorities for Future Cyber-Physical Systems
Smart Manufacturing, Construction, and Cyber-Physical Systems
---