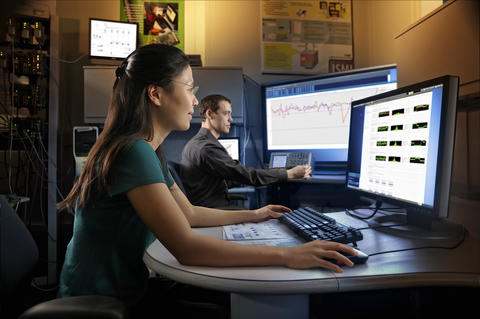 WASHINGTON—The U.S. Department of Commerce released details today about the President's fiscal year (FY) 2015 budget request to Congress for the National Institute of Standards and Technology (NIST). The FY 2015 budget request of $900 million aligns with the agency's vision for expanding and strengthening NIST programs in a number of key national priority areas such as forensic science, lightweight vehicle alloys and bioengineering measurement tools. The request is a $50 million increase from FY 2014 enacted levels.
"NIST's laboratories, research and standards development, and manufacturing services are crucial to boosting American innovation and competitiveness," said Under Secretary of Commerce for Standards and Technology and NIST Director Patrick D. Gallagher. "NIST's FY 2015 budget will allow us to expand and strengthen critical programs, such as increasing capabilities to move technology from the lab to the market more efficiently and effectively. These requested investments will also help us support public-private partnerships that address some of today's biggest challenges."
The budget reflects the Administration's continued commitment to enhancing innovation and economic growth through NIST's broad array of research, standards development and services. The FY 2015 budget request will help NIST increase regional and national capacity for innovative manufacturing, advance the cybersecurity of critical infrastructure and the digital economy, and remain at the forefront of measurement science and technology research and development.
The total FY 2015 budget request includes the following:
Scientific and Technical Research and Services (STRS), $680 million
The STRS request includes $29 million above FY 2014 enacted levels to allow NIST's laboratory programs to conduct measurement research and services that are central to innovation, productivity, trade and public safety. Funding requests include:
Industrial Technology Services (ITS), $161 million
The ITS request includes an increase of $18 million above FY 2014 enacted levels to support the following efforts:
Hollings Manufacturing Extension Partnership (MEP) (+$13 million). MEP is a federal-state-industry partnership that strengthens the competitiveness of small and mid-size U.S. manufacturers by providing them with access to technology, resources and industry experts.
Manufacturing Innovation Institutes Coordination (+$5 million). The budget requests funding to coordinate the growing number of manufacturing innovation institutes, including four existing institutes and five new institutes for which funding has been committed, as well as five proposed* with FY 2015 funding. The Advanced Manufacturing Program Office, hosted by NIST, will coordinate up to 45 institutes that would form the National Network for Manufacturing Innovation (NNMI).
Construction of Research Facilities (CRF), $59 million
The CRF request includes an increase of $3 million above FY 2014 enacted levels and the following projects:
Building 1 of the NIST Boulder, Colo., laboratories. With a total request of $11.1 million (a decrease of $0.7 million from FY 2014 enacted levels), NIST will continue to renovate the 60-year-old building, which houses the majority of NIST Boulder research and measurement facilities. Specifically, NIST will complete seismic reinforcement (interior and exterior), remediate hazardous materials, connect utilities to the site utility distribution system, and construct a new building envelope and service galley.
Radiation Physics Building, Gaithersburg, Md. An increase of $3.7 million above FY 2014 enacted levels will help NIST begin efforts to modernize the 1964 building to ensure measurements and research are not compromised due to the condition of the facility.
The President's proposed Opportunity, Growth and Security Initiative, a government-wide appropriation request that will be fully paid for with a balanced package of spending and tax reforms, would provide an additional $115 million to strengthen NIST's research and development capabilities and facilities. The initiative would support industry and government efforts to address today's biggest challenges in advanced manufacturing, cybersecurity, advanced communications, quantum science and other areas of critical national importance. The initiative would also provide NIST with $2.4 billion to support the National Network for Manufacturing Innovation.
To view the U.S. Commerce Department's full FY 2015 budget request, visit: http://www.osec.doc.gov/bmi/budget/FY15CBJ.html. For the Budget in Brief, visit http://www.osec.doc.gov/bmi/budget/FY15BiB/EntireBiB.pdf.
As a non-regulatory agency of the U.S. Department of Commerce, NIST promotes U.S. innovation and industrial competitiveness by advancing measurement science, standards and technology in ways that enhance economic security and improve our quality of life. To learn more about NIST, visit www.nist.gov.
*Updated 4/28/14 to clarify that planning will be contingent upon funding.