---
Commission Chair
---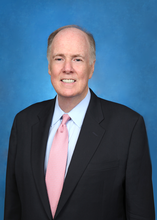 Mr. Donilon has worked closely with and advised three U.S. Presidents since his first position in the White House in 1977. Most recently, Mr. Donilon is a distinguished fellow at the Council on Foreign Relations, a non-resident senior fellow at Harvard Kennedy School's Belfer Center for Science and International Affairs, a distinguished fellow at the Asia Society, a member of the U.S. Defense Policy Board and the Central Intelligence Agency's External Advisory Board.
Mr. Donilon has received the Secretary of State's Distinguished Service Award, the National Intelligence Distinguished Public Service Medal, the Department of Defense Medal for Distinguished Public Service, the Chairman of the Joint Chiefs of Staff Joint Distinguished Civilian Service Award, and the CIA's Director's Award.
Mr. Donilon resides in Washington, DC with his spouse Cathy Russell and their children Sarah and Teddy.Ms. Russell is Ambassador-at-Large for Global Women's Issues at the U.S. Department of State.