---
Commissioner
---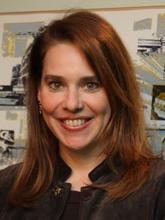 Dr. Annie I. Anton is a Professor in and Chair of the School of Interactive Computing at the Georgia Institute of Technology in Atlanta. She has served the national defense and intelligence communities in a number of roles since being selected for the IDA/DARPA Defense Science Study Group in 2005-2006. Her current research focuses on the specification of complete, correct behavior of software systems that must comply with federal privacy and security regulations. She is founder and director of ThePrivacyPlace.org.
Anton currently serves on various boards, including an Intel Corporation Advisory Board and the Future of Privacy Forum Advisory Board. She is a former member of the U.S. DHS Data Privacy and Integrity Advisory Committee, the CRA Board of Directors, the NSF Computer & Information Science & Engineering Directorate Advisory Council, the Distinguished External Advisory Board for the TRUST Research Center at U.C. Berkeley, the DARPA ISAT Study Group, the USACM Public Policy Council, the Advisory Board for the Electronic Privacy Information Center in Washington, DC, the Georgia Tech Alumni Association Board of Trustees, the Microsoft Research University Relations Faculty Advisory Board, the CRA-W, and the Georgia Tech Advisory Board (GTAB).
Prior to joining the faculty at Georgia Tech in 2012, she was a Professor of Computer Science in the College of Engineering at the North Carolina State University. Anton is a three-time graduate of the College of Computing at the Georgia Institute of Technology, receiving a Ph.D. in 1997 with a minor in Management & Public Policy, an M.S. in 1992, and a B.S. in 1990 with a minor in Technical and Business Communication. In 2006, she was honored with an award for "Most Influential Paper of ICRE 1996" at RE'06 for her 1996 paper entitled "Goal-Based Requirements Analysis". Her 1994 IEEE Software paper with co-authors Colin Potts and Kenji Takahashi was ranked the #10 most highly cited IEEE Software paper in its 25th Anniversary issue. She is a former associate editor of IEEE Transactions on Software Engineering, former cognitive issues area editor for the Requirements Engineering Journal, and a former member of the International Board of Referees for Computers & Security. From 2008-2012 she served as co-Vice Chair of the ACM U.S. Public Policy Executive Committee. She is a member of the International Association of Privacy Professionals, a member of Omicron Delta Kappa (ODK) National Leadership Honor Society, a senior member of the IEEE, and an ACM Distinguished Scientist.