---
Commissioner
---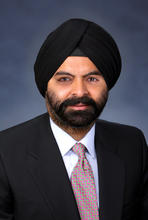 Ajay Banga is President and CEO of MasterCard, positions he has held since 2010. Mr. Banga joined MasterCard in 2009 as President and COO. Prior to joining MasterCard, Mr. Banga held various senior management roles with Citigroup from 1996 to 2009, most recently serving as CEO of Citigroup Asia Pacific. He was Director for Marketing and Business Development at PepsiCo Restaurants International India from 1994 to 1996 and began his career at Nestlé India, working in sales and management roles from 1981 to 1994.
Mr. Banga has served as a member of the Advisory Committee for Trade Policy and Negotiations since 2015. He is a member of the Board of Directors of the Dow Chemical Company, the Board of Governors of the American Red Cross, the Council of Foreign Relations, and serves as Chairman of the Financial Services Roundtable and Co-Chair of the American India Foundation.
Mr. Banga received a B.A. from the University of Delhi and an M.B.A. from the Indian Institute of Management, Ahmedabad.