CNST NanoFab
The NanoFab provides researchers with rapid access to state-of-the-art, commercial nanoscale measurement and fabrication tools and methods, along with associated technical expertise, at economical hourly rates. It is well equipped to process and characterize a wide range of nanoscale materials, structures, and devices.
NanoFab Welcome
In the NanoFab, you can use our extensive commercial, state-of-the-art tool set at economical hourly rates, and get help from a dedicated, full-time technical support staff.
Access a comprehensive tool set, including advanced capabilities for lithography, thin-film deposition, and nanostructure characterization
Benefit from reliable, reproducible processes maintained by a professional staff
Make use of fabrication and characterization services provided by our expert staff
Access the NanoFab within two weeks after submitting a simple application
High Resolution EBSD Pattern Simulation software now available
Mercury Probe Mapping System Coming Soon
A new mercury probe mapping system is expected to arrive at the CNST NanoFab in mid-September. The tool will provide non-destructive and rapid measurement of current-voltage and capacitance-voltage curves to derive resistivity, breakdown voltage/field and film thickness of thin dielectric films without having to metallize the wafer and fabricate capacitors.
Other parameters such as doping density profiles, trap distribution, pinhole/defect density, charge/capacitance versus time, charge versus voltage and dielectric constant can be easily derived as well. The new system replaces a standard probe station's aluminum dot contacts, which had been required to form a capacitor, with a mercury contact that acts as a metal gate on the oxide. The accuracy of the measurements is guaranteed by the precisely defined contact area. The mapping system, model CVmap 92A from Four Dimensions, Inc., has user-friendly software that offers comprehensive maps of up to 200 points per wafer. 
For additional information, please contact Gerard Henein, 301-975-5645.
CNST NANOFAB EXPANDS SOFT LITHOGRAPHY LAB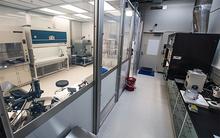 The CNST NanoFab has expanded the soft lithography laboratory.  This lab provides researchers with rapid access to tools and processes for fabricating devices in soft materials, with applications ranging from microfluidics and nanofluidics, to flexible electronics and optics, to devices with patterned surface chemistries.
Located in Building 216, room F102, the lab has been expanded to 50m2 with the addition of a Class 10,000 cleanroom. New tools in the cleanroom include a silane vapor deposition oven and a microfluidic test station. These tools complement the existing  casting station for polydimethylsiloxane (PDMS) coating, a plasma bonder for surface preparation, a convection oven for PDMS baking, and a laminar clean hood for final assembly and a PDMS punch for creating ports. The casting station is housed in a fume hood, which also includes a spin coater, a scale, a hot plate, and a desiccator for PDMS mixing, degassing, coating, and baking.  The casting station and oven support substrates ranging from 150 mm diameter wafers down to small pieces and the plasma cleaner supports wafers as large as 75 mm in diameter. 
To arrange lab access and training, or for more information, please contact Matthew Robinson, 301-975-2421.
News and Updates
Tools & Instruments