Baldrige examiners are an elite group of individuals who make meaningful contributions to organizational improvement and U.S. competitiveness. Even after their service as examiners, many continue as practitioners of the Baldrige Excellence Framework and its Criteria in support of their own organizations and charitable and other work.  
To drive organizational performance excellence across the country, many examiners also take on the role of Baldrige ambassador, speaking at conferences, associations, schools, and other organizations. For these activities, the Baldrige Program makes available a series of updated slide sets that can be used as is, tailored, or combined with other presentations to suit each audience's needs.
The 2018 slide presentations are now updated, with two new presentations added to the line-up: Baldrige Cybersecurity Excellence Builder and Communities of Excellence.
In addition to answers to frequently asked questions (about the Baldrige Program), the following PowerPoint presentations can be downloaded:
Introduction to the Baldrige Program
Introduction to the Baldrige Excellence Framework
Baldrige Excellence Framework
Baldrige Excellence Framework (Education)
Baldrige Excellence Framework (Health Care)
The Malcolm Baldrige National Quality Award
Self-Assessing Your Organization with the Baldrige Excellence Framework
Performance Excellence: A Systems Approach & Tools
Baldrige Program Impacts
Baldrige Cybersecurity Excellence Builder
Communities of Excellence 2026
If you are looking for a Baldrige ambassador in your area, consider reaching out to Baldrige examiners who are listed by state and in alphabetical order.
Also, the Baldrige Program has launched a new service called BaldrigeConnect, a consultant referral program. For people interested in learning more about it and/or using it, please contact Baldrige customer service.
Finally, what better time for the Baldrige community and the nation than to spread news of the value proposition of Baldrige? Please consider speaking or sharing news of how Baldrige tools benefit U.S. competitiveness!
---
A Systems Approach to Improving Your Organization's Performance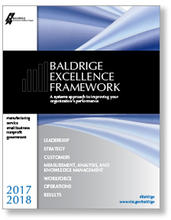 Baldrige Excellence Framework
The Baldrige Excellence Framework has empowered organizations to accomplish their missions, improve results, and become more competitive. It includes the Criteria for Performance Excellence, core values and concepts, and guidelines for evaluating your processes and results.
Available versions: Business/Nonprofit, Education, and Health Care
---