Where would you go in your organization if you had a really great idea? And what if you had access to a physical space where you could brainstorm with other staff members who might be part of deploying the idea, with patients or other customers who might be impacted by the idea, with your leadership who could guide the idea, and with coaches who could help you develop and even create a prototype that embodies the idea?
At Sibley Memorial Hospital, the Sibley Innovation Hub stimulates and supports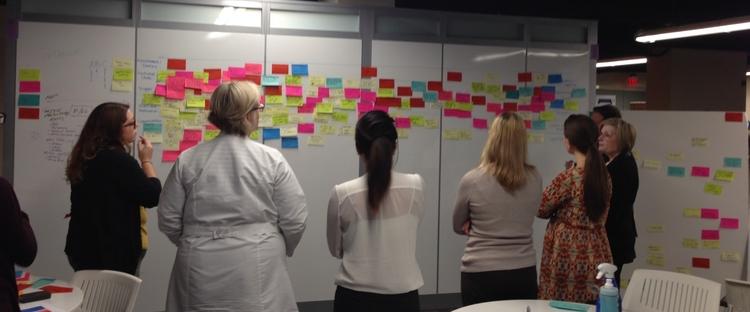 innovation as the first-of-its-kind, human-centered design studio and incubator embedded in a community hospital. The hub is a cross among Starbucks, an airport-style lounge, and Google, where health care staff, patients and family, and community members can bring new ideas and/or explore solutions to the challenges in health care delivery, said Sibley Memorial Hospital President Richard O. Davis.
"What happens when you create a space for physicians, nurses, leaders, patients, and even community members to really examine health care and how it's delivered, envisioning the model for the future and what needs to change in that delivery model?" asked Davis.
Staff come to the hub to get support and coaching for projects, with a focus on what health care should look like in the future, he said. Fresh ways to address patient and community needs are studied, designed, prototyped, and tested by teams that include the person who brought the idea forward. The Innovation Hub's full-time staff and coaches help coordinate activities and facilitate projects, with a focus on projects that improve patient care, empower and engage staff, and improve clinical quality, and with encouragement for "wild ideas, creativity, and a responsible bias towards action." In addition, executive leadership has office hours in the hub. "There's always somebody there to help, get involved, and model behavior," said Davis.
"What I had hoped for and what I have seen is that [the Innovation Hub] literally has become a focal point, a place where people can now go to help solve problems and be creative," said Davis. "And when you unleash that creativity in a 2,000-person workforce, I think it can be very powerful. It's also really a way for the staff, docs, and patients that go in, themselves, to participate and bring their good ideas forward."
Recent Innovation Hub projects include reimagining the breast cancer treatment process. To reimagine the breast cancer treatment process, staff learned from patients that there are four–five key emotions everyone seems to experience at some point during treatment. They don't come in the same order or from the same triggers for each person, and they almost never happen when someone is at the hospital or doctor's office. So the team created a kit with envelopes labeled for each emotion (e.g., communicating, learning, taking control, processing). Inside each envelope is a letter from a previous patient who understands.
Davis said he's pleased that the Innovation Hub has become a place where people know they can explore ideas or work on issues with the senior leadership's support. "I very much wanted to get away from a top-down hierarchy and allow those good ideas from the workforce to be uncovered. The other thing that I thought was a great outcome is that patients go in there. Sometimes they just want to go because there are comfortable chairs and a fish tank; get coffee. A lot of times they come in, and they start to give us ideas of how we can improve their care, their stay, their interaction. Family members like to go down there like they would go to Starbucks. They also have really good input. It's been great. The community uses it at night for a variety of activities, including Zumba. The multipurpose kind of space has really worked well."
Davis said the idea for the hub came about from a decade of working both inside and outside the health care industry with organizations that had used design thinking, also known as human-centered design. He brought the idea with him when he began a year-long fellowship with the Baldrige Executive Fellows in 2013. As part of the program, all Fellows complete a capstone project of strategic significance to their organizations. Davis's capstone was to create the Innovation Hub, a "kind of a health care accelerator for improvement on our campus," he said.
"For many years, I had the opportunity to be involved in driving performance improvement initiatives to really improve the quality, safety, and efficiency of care," Davis said. "What inspired me [to develop the Innovation Hub] is that I think health care is very fortunate in the fact that the people who work in health care are very, very dedicated to patients and patient care, but frequently what they need is an actual place where they can go to help fix some of these problems with coaches who can help facilitate some of that interaction."
His executive peers in the Baldrige Executive Fellows program (and he still keeps a contact list on his desk) provided valuable feedback while the Innovation Hub was being developed, Davis said. "The idea I had—but I think it really helped me working with the other Fellows and just kind of talking it through with the advisers as well." One adviser, Baldrige Director Emeritus Harry Hertz, even served on a Sibley advisory committee that helped us organize and outline how we were going to do this, Davis said.
Davis added that the Baldrige Executive Fellows has been a great program that provided him with a deeper knowledge of the Baldrige Excellence Framework and its Criteria. He has even encouraged his C-suite at Sibley Memorial Hospital to also become Baldrige Executive Fellows and specifically looked for Baldrige experience when hiring his chief medical officer.
"I think [Baldrige] is a great framework to drive excellence. . . . I think that the ability to go behind the wizard's curtain if you will [during Baldrige Executive Fellows' visits to award recipients] at some world-class, high-performing organizations was very, very valuable. And in some ways having them both educate us and share a little bit of the secret sauce or things that their organization really focused on in order to get those high levels of quality, I thought, was superb. The ability to act with those C-suite leaders and even the front-line was very powerful. I will never forgot the tour of the egg factory at Cargill and how the workers on the floor all knew exactly what the mission and focus was and quality standards. There were metrics, there were all of the things that were aligned for that organization to really create favorable outcomes."

Prototypes under development for a patient-centered room include voice control, a video super wall, and a real-time feedback system.
While remaining a place where staff teach design thinking (based on Stanford University's teaching) and Lean/Six Sigma, the Sibley Innovation Hub is now starting to introduce a health care accelerator model, as well as a couple of patents, Davis said. The staff are also producing prototypes of emerging trends or technologies, such as virtual reality immersion for physicians (to help with surgery) and patients (to help with pain control); it's even being tested to help hospitalists visualize patients' homes before discharge so they can plan home care accordingly. Wearable sensors are also being tested to track pulse, O2 saturation, movement, and falls; the sensors give the patient something meaningful to visualize and the ability to track their own goals towards improved outcomes and discharge while also giving physicians useful information.