A stable protein formulation is very important to the safety of mAb drugs. In particular, mAb drug solutions formulated at high concentrations can undergo various biophysical instabilities, such as aggregation, liquid-liquid phase separation, and can also have high viscosities. These undesired solution properties are primarily driven by attractive protein-protein interactions. In fact, preventing such interactions during long term storage is a major challenge faced by the biotech industry. Consequently, formulation condition is key to ensuring robust and long-term shelf life of protein drug solutions.
A fundamental understanding of the impact of temperature, pH, viscosity, and addition of salts on the biophysical stability of mAbs could potentially help predict long term stability. In our group, we systematically follow the effects of salt (e.g. The Hofmeister Series), temperature, and pH on the thermal unfolding temperature and aggregation kinetics of a mAb. This approach allows for a detailed, mechanistic investigation of salt effects across various charged states of the mAb while maintaining relevant formulations and physiological conditions.
We have studied the biophysical stability of a therapeutic protein sample using various optical methods [1]. Dependencies of the stability on pH, salt, and temperature provide insights into detailed mechanisms of domain unfolding and solvent interactions. This type of molecular mechanistic studies can be useful to improve the shelf-life of protein drug products and understand protein aggregation-related disease mechanisms.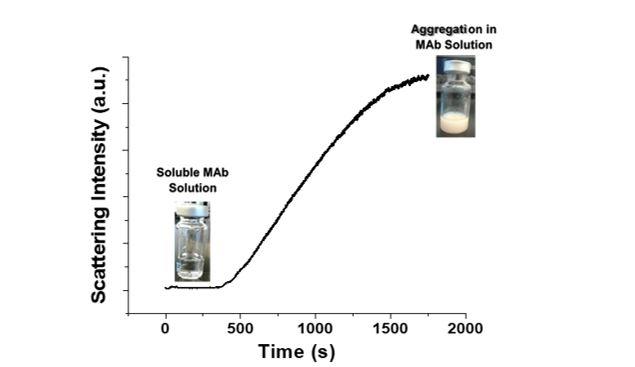 PUBLICATIONS
[1] K. B. Rembert, Y. J. Lee, and J. Zhang, Effects of Salts and Surface Charge on the Thermal Stability and Non-Native Aggregation of a low pI Monoclonal Antibody, to be submitted.