The Flow Metrology Group is using the smoke stack simulator shown in Fig. 1 to critically test conventional and alternative ways of measuring the flow of stack gases. The inlet cone and reference (upstream) section of the simulator draw in ambient (outside) air and generate a swirl-free, fully-developed turbulent flow. The reference section features an 8-path ultrasonic flow meter that NIST calibrated with an uncertainty of 0.5% (at a 95% confidence level) while it was installed in the inlet section.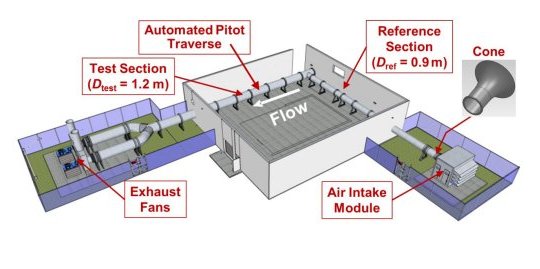 Figure 1. NIST's smoke stack simulator. The test section has a length of 28 m and a diameter of 1.2 m (4 feet) which is approximately 1/10th the diameter of a power plant stack.
Figure 1 shows a right-angle bend with a "dead" volume between the reference section and the downstream test section. The bend simulates a typical connection between a power plant's pollution control system and its stack. The bend generates counter-rotating vortices in the test section. Obstacles (such as perforated plates) can be inserted in the test section to further complicate the flow. The exhaust fans generate flows of 6 m/s to 25 m/s in the 28 m-long test section which has a diameter of 1.2 m (4 ft).
The test section is instrumented to quantify the errors and uncertainties encountered when EPA-approved Continuous Emission Monitoring (CEM) protocols are used to measure the CO2 flux. Thus, it accommodates 1-path and 2-path ultrasonic flow meters at various angles as well as automated surveys using S-probes and 3D-probes following EPA Relative Accuracy Test Audit protocols.
We seek to reduce the errors in flow measurements by using
a laser doppler anemometer to measure interference between pitot tubes and the walls
computational fluid dynamics to model/predict flow-dependence of swirl generated at stack entrance
computational fluid dynamics to model/predict meter responses to swirling flows
3-path and 4-path ultrasonic flowmeters
We are exploring alternative methods of measuring flue gas flows such as
injecting tracers and measuring their dilution