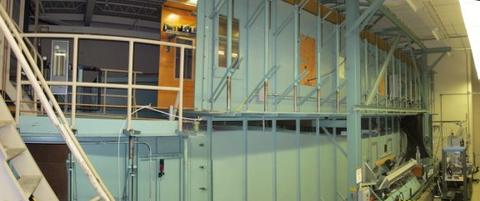 NIST's wind tunnel has two interchangeable test sections. (See Fig. 1) The upper test section has a uniform cross section; the lower test section has a contracted zone in its center
Upper section: 2.1 m high × 1.5 m wide × 12 m long; speeds to: 45 m/s (100 mi/hour)
Contracted zone: 1.2 m high × 1.5 m wide × 2 m long; speeds to: 75 m/s (165 mi/hour)
The upper test section is used to study the effects of wind on model buildings. It contains a remotely-controlled gantry, turbulence-generating spires, and a rotatable instrument platform. The lower test section is used to calibrate customers' anemometers and to conduct research directed towards improving air speed measurements. It contains an automated stage that changes the pitch and yaw angles between the wind speed and any anemometer mounted on a rod.
In normal use, the turbulence intensity in NIST's wind tunnel is approximately 0.001.
(We define the turbulence intensity as

, where

is the mean velocity.) When needed, the turbulence intensity is increased by inserting grids or "spires" upstream of the test sections.