Summary
Over the past 60 years, the fire safety science community has developed extensive knowledge on fire dynamics within buildings.  Research into wildland-urban interace (WUI) fires, and how to potentially mitigate losses from such fires, is far behind other areas in the field of fire safety science. This is due to the fact the WUI fire problem is unique in its complexity, involving the interaction of topography, weather, vegetation and structures and thus there are many gaps in the scientific understanding of the problem and potential effective mitigation.  In the United States, seven of the fifteen largest U.S. fire loss incidents were WUI fires, with an average property value dollar loss of $1.4 billion.  Firebrands, or embers, have been observed to be responsible for a majority of structure ignitions in WUI fires [[1]-[2]].  To develop the necessary measurement science to cope with difficulties in understanding firebrand igniton of structures, NIST's first International Duty station was established to make use of unique experimental facilities in Japan, both at the Building Research Institute (BRI), and the National Research Institute of Fire and Disaster (NRIFD).  As a result of the marriage of the NIST Dragon technology, and these experimental facilities, the capability to investigate wind-driven firebrand exposure at full-scale and reduced-scale has been developed.  Yet, due the complexity of the WUI fire problem, significant challenges remain.  Now that NIST has developed such unique experimental capabilities to generate firebrand showers over various scales, it is now possible to harness the power of these capabilities to: characterize the world's firebrand flux measuring instrument, being developed with new initiative funding, and continue developing the scientific basis for standard testing methodologies over a range of scales. 
---
[1] S.L. Quarles, et al., Lessons learned from Waldo Canyon: fire adapted communities mitigation assessment Team findings, Insur. Inst. Bus. Home Saf. (2013).
[2] A. Maranghides, et al., A case study of a community affected by the waldo fire –event timeline and defensive actions, NIST TN1910 (2015).
Description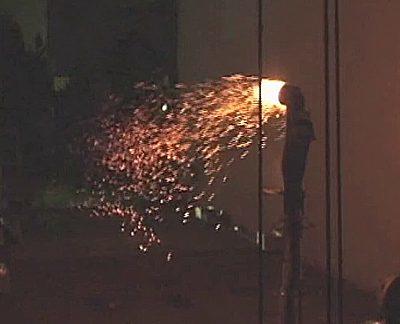 Objective - To reduce the risk of structural ignition during a wildland-urban interface (WUI) fires by developing the technical basis for new and improved standard laboratory test methods and building codes considering WUI fire hazards.
What is the new technical idea? Designing structures to be more resistant to ignition in WUI fires, known as hardening, is an accepted approach to lessen structure and community losses.  Currently there are international standards and codes that attempt to harden structures to WUI fires exposures [[1],[2],[3],[4]]. These approaches were developed using the best methods at the time of their implementation, albeit in a time when WUI fire science was in the early stages of development. As WUI fire science has begun to advance, it has become apparent that the current codes and standards are not adequate to address the range of WUI exposures. Current standards and codes are largely focused on radiant heat and flame contact exposure, while recent research has found that firebrands, or embers, are responsible for most of the structure ignitions. It should be of no surprise that the current standards and codes to harden structure are not adequate since the fire safety science research community has only begun to focus resources on WUI fires [[5]].
What is the research plan? A representative time for firebrand exposure to structures depends on many factors in actual WUI fires. It is believed that different durations of firebrand exposure could serve as the basis for a rating system for use in standard test methods for building component performance.  In particular quantifying firebrand exposure from actual WUI fires is required to determine representative firebrand exposure duration, and these will be helpful to provide bounds of exposure severity to wind-driven firebrand showers. This premise is analogous to what is currently done for various fire safety test methods (i.e. Class A assembly indicates most ignition resistant).
As part of newly received initiative funds, work has begun within the Engineering Laboratory (EL) at NIST to develop and construct a new experimental apparatus named the Emberometer.  The challenge is that this device must be characterized to determine its efficacy to actually quantify firebrand showers prior to deploying it in real WUI fires.  Both the full-scale and reduced-scale firebrand generators, extensively quantified as part of the current assignment Japan, are ideal platforms to be able to determine if this experimental device may indeed determine firebrand number and mass flux.  The final part of the characterization, as part of out year milestones, will be to determine if the device can quantify firebrand production from actual building components.
While quantifying firebrand exposures are of paramount importance in WUI fires, mitigating firebrand production from burning structures is an interesting premise.  Once a wildfire reaches a community, structures are ignited, and firebrand production from structures is known to be an important mechanism of WUI fire spread [1,2]. An open question: is it possible to obtain insights into structure firebrand production from mock-ups of full-scale structure components, such as walls and roofing assemblies?  These detailed firebrand size and mass distributions will enable the generation of firebrand showers commensurate to burning structures and add to our existing database (very, very limited) of firebrand production from structures.  Of equal importance, these investigations will also inform test method development to screen building materials for firebrand production.
---
[1] International Code Council, International Wildland–Urban Interface Code, 2015.
[2] California Building Standards Code, Chapter 7A, Materials and Construction Methods for Exterior Wildfire Exposure, 2016.
[3] National Fire Protection Association, NFPA 1144 Standard for Reducing Structure Ignition Hazards from Wildland Fire, 2013.
[4] Australian Standard AS 3959, Construction of Buildings in Bushfire-Prone Areas, 2009.
[5] S.L. Manzello, Enabling the investigation of structure vulnerabilities to wind-driven firebrand showers in wildland urban interface (WUI) fires, Fire Saf. Sci. 11 (2014) 83–96.